2020 Hyundai Venue: The Perfect Fit for the Right Customers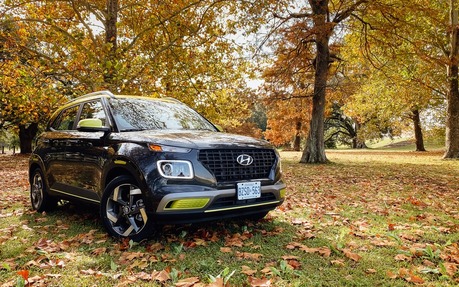 Just before our test drive of the all-new 2020 Hyundai Venue, we received a short message from the company's public relations staff. Basically, they asked us to put ourselves in the customer's shoes.
You see, the Venue is aimed at city-dwelling millennials with a fondness for the latest and hottest trends and technologies. Ironically, statistics show that this generation cares the least about automobiles and driving in general.
The segment is currently occupied by products such as the Toyota CH-R and Nissan Kicks. You can even include the Chevrolet Spark, which is nothing more than a rolling iPad in a protective case shaped like a car.
A Bigger Hyundai Accent
First things first. The "Venue" name, obviously, refers to a cool place where people gather and participate in something fun—a bar, hotel, theatre, arena, etc. With its new SUV, Hyundai wants to give young cosmopolitan drivers a hip new alternative to go from one venue to another, with generous interior space and a sense of safety.
In reality, the Venue is an urban SUV that rides on the Hyundai Accent platform. It also uses the same engine, namely Hyundai's next-generation 1.6-litre four-cylinder, which is rated at 121 horsepower and 113 pound-feet of torque. That's a drop of about 10 horsepower from the old engine, but you won't really feel a difference behind the wheel.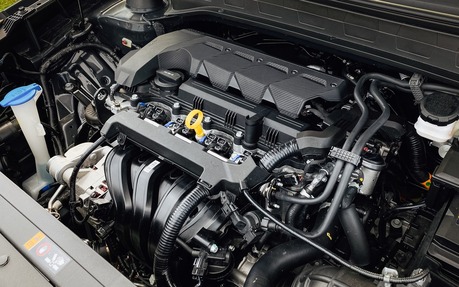 Acceleration is slow and uninspiring, either with the six-speed manual transmission or the optional CVT. Then again, if we put ourselves in the customer's shoes (you're welcome, Hyundai), all that matters is going from A to B with style and burning as little fuel as possible in the process, which the Venue does quite well as evidenced by a combined rating of 7.5 L/100 km.
By the way, Hyundai's so-called "intelligent" CVT is much better than previous units, which felt like riding a snowmobile. It's dynamic enough to make the most of the power on tap.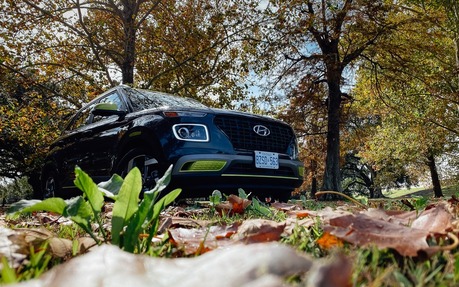 Cute and Practical
The marketing folks at Hyundai understand that customers in this segment want a quick first impression and make an even quicker decision. They won't take the time to research the vehicle and get to know it like the back of their hand.
So, the idea was to create an attractive yet simple car that looks versatile and capable enough. The boxy shape, tall profile and gorgeous LED headlights fit that bill. Remember, though, we're talking about a Hyundai Accent in disguise, not a rugged SUV that can keep pace with a Jeep Renegade out on a trail. In fact, the Venue comes with front-wheel drive only.
The interior will make you feel like you're sitting in a larger vehicle. The layout is airy and techy, with a lot of unique details (patterns, colours, stitching, etc.) that will appeal to fashionistas.
The dashboard is crowned by a large display, naturally, and while the brand new multimedia system is a bit more complicated than the previous one, it perfectly integrates Apple CarPlay and Android Auto—which we suspect will be used by drivers 90 percent of the time, maybe more.
On select trim levels, Hyundai Blue Link allows you to stay connected and control the vehicle remotely through a mobile app. For example, you can lock the doors or start the engine from the comfort of your home.
Given the boxy exterior, the rear seats are quite accommodating. Headroom is generous and the upright seating position means the limited amount of legroom is not really a problem. Cargo capacity can be increased by folding the seats; with up to 903 litres you can easily fit various furniture items found on Kijiji or at the flea market. Another convenient feature is the height-adjustable trunk floor.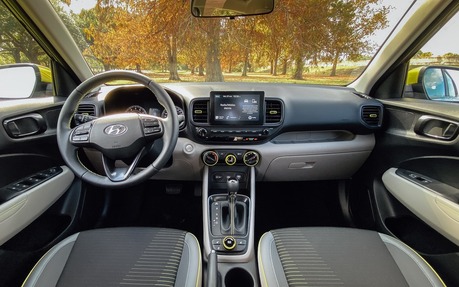 Mission Accomplished
Considering the 2020 Hyundai Venue is aimed at young cosmopolitan drivers, it aces the test. This little SUV is cute, practical, efficient and easy to park, with just enough gadgets and a low price. Speaking of which, you can have one for as low as $17,099. In top trim, expect to pay $24,899.
The Urban model is particularly interesting with a two-tone exterior and denim-style seats, but even the base Venue has a lot going for it. It's up to you to decide if you need all those connectivity options and advanced driving aids such as a Snow mode.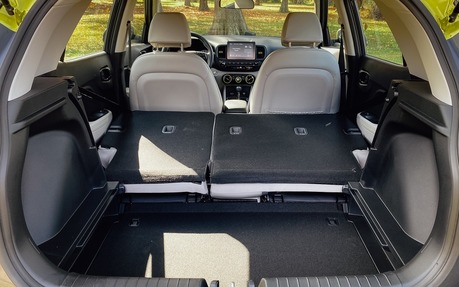 Ultimately, the Venue hits a bull's eye. It's the perfect fight for the right customers. Now, if you live outside the city, spend a lot of time on highways or love attacking twisty roads in the country, it's a different story.
Test drive report
Test model

2020 Hyundai Venue

Trim level
Essential
Price range
$17,099 – $24,899
Price as tested
N/A
Warranty (basic)
N/A
Warranty (powertrain)
N/A
Fuel economy (city/highway/observed)
8,0 / 6,5 / 7,5 L/100km
Options
N/A
Competitive models
Chevrolet Trax, Kia Niro, Kia Soul, Mazda CX-3, Nissan Kicks, Toyota C-HR
Strong points

Attractive looks
Large, practical cabin
Good fuel economy (for an SUV)
Low price
Generous rear seats

Weak points

Limited performance beyond the city
No all-wheel drive
Only one engine
Slightly firm ride
Lack of technology

Editor's rating
Fuel economy
Not bad for an SUV.
Comfort
The Venue is fairly comfortable, but the ride becomes a bit stiff on bumpy roads.
Performance
The engine is suited for city driving. Beyond that, its potential is limited.
Infotainment
The system is easy to use and perfectly integrates Apple CarPlay and Android Auto, which is important to Venue customers.
Driving
The chassis feels solid. In fact, we'd like to see a sportier variant.
Overall
The Venue hits a bull's eye and should prove very popular among those young drivers it targets.