Acura Restores its First SUV and it is Subtly Awesome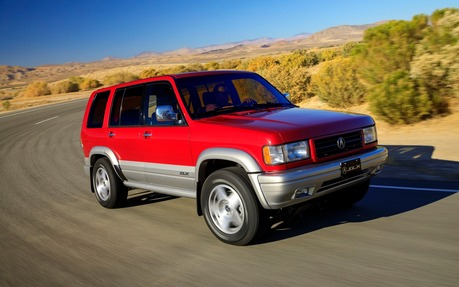 Remember the old Acura SLX? Maybe not. The Japanese luxury brand's first SUV was sold exclusively in the U.S. in the late 1990s as a clone of the Isuzu Trooper. It was replaced at the turn of the century by the MDX—arguably one of the smartest decisions Acura has ever made.
Well, guess what? The company went out and completely restored a 1997 Acura SLX with modern parts and components for the RADwood Car Show in Orange County, Calif. taking place tomorrow, December 7.
"Nostalgia for '80s and '90s vehicles has grown tremendously, and we're seeing them start to become really collectable," said Jon Ikeda, vice president and Acura brand officer. "RADwood is always packed with a lot of fun and interesting stuff, so we knew we would have to bring something a little crazy to the table."
Only minimal changes were made to the exterior and interior to preserve the charm of the original SLX. The original two-tone paint scheme was updated using a Performance Red Pearl and Champagne-Silver combo, while 17-inch Fifteen52 Tarmac wheels wrapped in Yokohama Geolander A/T tire replace the old ones. There's a body-coloured hard spare tire cover in the rear and reupholstered Milano leather seats along with grey wood appliques in the cabin.
The mechanical aspect of the vehicle is a whole other story. As the "SH-AWD" badge on the liftgate suggests, this 22-year-old Acura SLX incorporates the sophisticated all-wheel drive system found on five of Acura's modern-day products.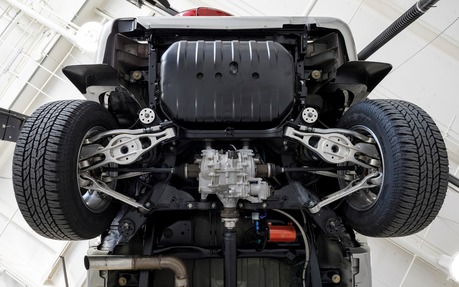 The team lead by Acura engineers and Pikes Peak racing drivers James Robinson, Paul Hubers and Jordan Guitar also achieved quite a feat by replacing the longitudinally mounted 3.2-litre V6 with a transverse-mounted, turbocharged 2.0-litre four-cylinder engine. The latter was obviously sourced from the current RDX and the amazing thing is that the RDX's driveshaft went into the SLX without any modifications at all.
Instead of delivering just 190 horsepower and 188 pound-feet of torque, the restored Acura SLX produces 350 horsepower and 340 pound-feet of torque, while the transmission features 10 forward gears instead of only four.
New front and rear sub-frames were welded to the original boxed ladder frame, the solid rear axle was replaced with the RDX's multi-link independent rear suspension and the brakes received larger discs.
What do you think?