2020 Honda Passport: The Gentle Adventurer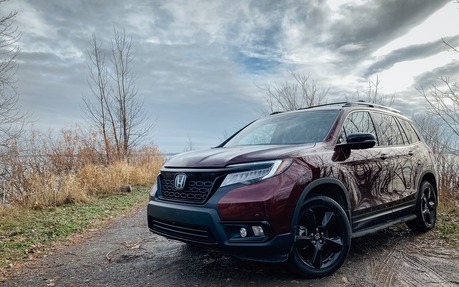 The all-new Honda Passport is a pretty rare sight on the road. Since it went on sale in Canada last year, we've only come across a handful of them on the road.
That's understandable when you consider how much of a niche product the Passport is. It might not look like it, but this SUV is similar to the Toyota 4Runner—tall, rugged and capable of tackling some of the most challenging terrains. Yet the latter sold three times more units in 2019.
Does the Passport deserve more recognition? We spent a full week trying to find out.
Unassumingly Rugged
From a design standpoint, the unassuming Honda Passport looks kind of chubby and not as strong as the 4Runner—or any other large, body-on-frame SUV with off-road chops, for that matter.
It's built on the same unibody architecture as the Pilot and Ridgeline, though Honda's pickup benefits from a reinforced structure that makes a significant difference in terms of ride and handling. In that regard, the Passport is much closer to the Ridgeline than the Pilot.
While not as rugged as competitors and not on the same level when it comes to towing, the Passport is smoother and more agile. In fact, it drives more like a car than conventional trucks. That said, we wouldn't hesitate to trade the big 20-inch wheels for smaller alloys with higher-profile tires, especially on rough pavement.
Pleasant Cabin
The interior of the Honda Passport is quite reminiscent of other Honda models sharing the same DNA. The layout is simple and classic, a contrast with most modern vehicles that feature a ton of horizontal lines and an oddly juxtaposed, tablet-style touchscreen.
The front seats prove comfortable and the rear bench offers plenty of space. Since there's no third row like in the Pilot, the trunk is gigantic—you could virtually fit a mattress and sleep in the back once the seatbacks are folded.
As for Honda's new infotainment system, it works pretty well on its own. If you prefer Apple CarPlay or Android Auto, you can easily make the switch. Meanwhile, the controls are straightforward so you won't experience any frustration adjusting the temperature or changing radio stations, for example.
Surprisingly Good Off-roader
The Honda Passport is motivated by a 3.5-litre EarthDreams V6 designed to improve fuel economy and save the planet. It generates 280 horsepower and 263 pound-feet of torque, the former coming in at 6,000 rpm, and sounds good in the process. Thanks to the nine-speed automatic transmission, performance is commendable, particularly when you push the engine a little.
Unfortunately, the Passport's average fuel consumption rating is no better than 11.5 L/100 km, even when using the throttle-numbing Eco mode. Also, maximum towing capacity is 5,000 pounds whereas the aging Nissan Pathfinder can pull up to 6,000 pounds.
Off the road, the Passport fares remarkably well thanks to a 4WD system derived from Acura's acclaimed Super Handling All-Wheel Drive technology. Just select the type of terrain you're about to venture onto using a button on the centre console and the system will automatically adjust key vehicle settings.
For maximum performance, stick with Normal mode and turn off stability control. You'll be surprised with the things you can do, aided by generous ground clearance.
Who is it For?
The 2020 Honda Passport is fairly expensive. It starts at $42,490 while a top-line Touring model costs just shy of $50,000. There's a plethora of options and accessories, too, many of which should be included as standard if you ask us.
For that reason, a number of potential customers no doubt prefer to buy a traditional, body-on-frame SUV with real off-road chops.
Still, the Passport remains a spacious and comfortable "truck" with a pleasant driving experience and an inviting cabin. It will satisfy gentle adventurers who don't mind taking a good mud bath and going in a different direction than their Jeep-owning friends.
Test drive report
Test model

2020 Honda Passport

Trim level
Touring
Price range
$43,937 – $50,936
Price as tested
53 354 $
Warranty (basic)
N/A
Warranty (powertrain)
N/A
Fuel economy (city/highway/observed)
12,5 / 10,0 / 11,5 L/100km
Options
N/A
Competitive models
Chevrolet Blazer, Ford Edge, GMC Acadia, Hyundai Santa Fe, Jeep Grand Cherokee, Kia Sorento, Nissan Murano, Subaru Outback, Toyota 4Runner
Strong points

Spacious cabin
Comfortable seats
Great AWD system and transmission
Genuine SUV capabilities

Weak points

Styling is a bit bland
High price
No third row
Towing capacity could be better

Editor's rating
Fuel economy
The so-called Earth Dreams engine is not very green.
Comfort
The Passport is more comfortable than rivals, but it could use slightly smaller wheels.
Performance
Acceleration is decent though limited by the vehicle's weight.
Infotainment
Honda's system is easy to use and should inspire Acura designers.
Driving
The ride is fairly comfortable, but the whole thing lacks some ruggedness.
Overall
The Passport is an excellent SUV aimed at a very specific crowd.