2021 Cadillac Escalade to have 38-inch Curved Display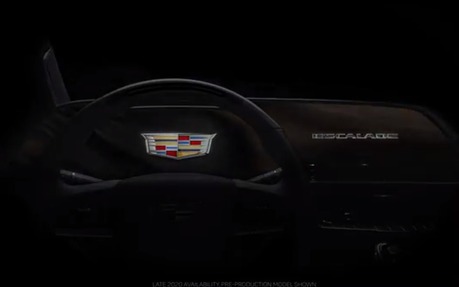 A flashy, larger-than-life SUV like the Cadillac Escalade needs a flashy, larger-than-life cockpit, wouldn't you agree?
This is exactly what the new-for-2021 model has in store.
The company has just released a teaser showing the first curved OLED instrument panel in the auto industry with—wait for it—over 38 inches diagonal of total display. That's right: 38 freaking inches!
Featuring twice the pixel density of a 4K television (the exact resolution has not been specified), Cadillac says this technology enables bold imagery, perfect blacks and the largest colour range available. It will certainly look better than any TFT or LCD screen.
The teaser also reveals a light strip across the upper part of the steering wheel, confirming that the brand's Super Cruise semi-autonomous driving technology will be included.
Continuing the big-screen theme, the 2021 Cadillac Escalade will be unveiled on February 4, 2020 in Los Angeles during Oscars week. Just like Ford did with actor Idris Elba for the launch of the Mustang Mach-E, we expect a few celebrities to help promote the big Caddy.
We're also curious to find out if the company will announce some kind of electrified powertrain at that time. There have been rumours that the Escalade might go all-electric, which would be quite a stunner. Then again, we didn't expect a 38-inch display, either.