2020 Mercedes-Benz CLA 250 4MATIC: The Baby CLS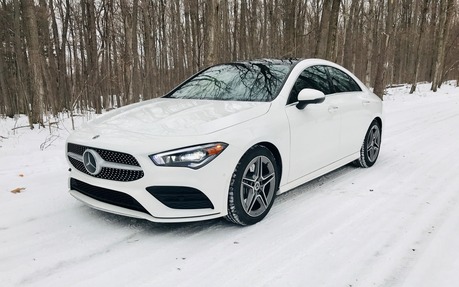 The second-generation CLA joins the brand new A-Class to give Mercedes-Benz a pair of fresh products in the all-important small-car segment.
Last year, one out of four vehicles sold by the German automaker around the globe was a compact car. As you can easily imagine, only SUVs were more popular.
The original CLA, introduced in 2013, found a home in more than 750,000 driveways, so don't be surprised to see so many similarities between this model and its successor. The influence from the larger CLS also continues.
More of an evolution than a revolution, the new 2020 Mercedes-Benz CLA retains signature design cues like the frameless side windows and coupe-style roofline. The headlights and taillights have been redesigned, just like the front grille.
In terms of exterior dimensions, the car is now longer, lower and wider. The wheelbase is 30 millimetres longer, which results in a more spacious cabin particularly where rear-seat legroom is concerned. Of course, don't expect the comfort of a large sedan back there.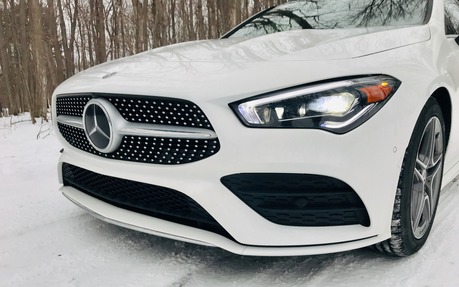 Digital Cockpit
The biggest transformation took place inside the CLA with the addition of the Mercedes-Benz User Experience (MBUX) infotainment system, which consists of a pair of colour displays mounted side by side—one replacing the traditional instrument panel and a centre touchscreen that handles multimedia, navigation, communication and other vehicle functions.
Drivers can also interact with the MBUX system through a large touchpad on the centre console, but we found it to be a tad too sensitive resulting in unwanted actions. The same can be said about the smaller touchpads on the steering wheel, by the way.
Overall, Mercedes' sleek-looking infotainment technology requires some getting used to. As for connectivity, you will find several USB ports. All of them are the USB-C type, however, so you need an adaptor to connect devices that don't use this standard.
Another technological highlight is the personal assistant that responds to voice commands that start with "Hey Mercedes." And similar to BMW's gesture control system, the new CLA can recognize driver gestures, too.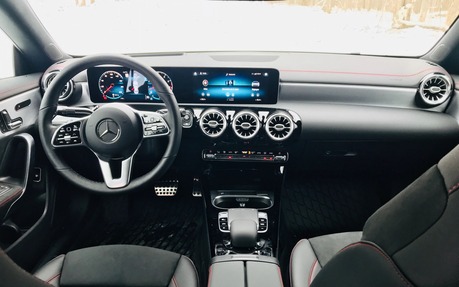 CLA on the Road
The 2020 Mercedes-Benz CLA 250 4MATIC is equipped with all-wheel drive and proves competent on the road. Steering is very precise, the suspension is fairly well calibrated and the car remains stable around corners.
On the other hand, the various advanced safety systems tend to step in too quickly or abruptly. For example, when you get close to a lane marking, the CLA steers back and often applies the brakes to correct your line, even if all you wanted was to kiss the apex in a corner or to create a little more separation with the concrete wall to your left in a road construction area.
We realize that these features are designed to improve safety in the event of a driver distraction, but we wish they were a bit less paranoid.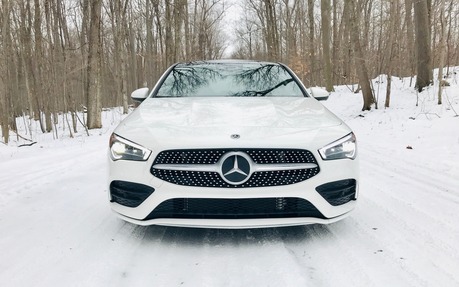 Many Expensive Options
Pricing for the 2020 Mercedes-Benz CLA 250 4MATIC starts at $43,000. However, like any self-respecting German car, it comes with a long list of options that will cost you a lot of money. Our tester ended up retailing for $54,275.
Ultimately, the new CLA is big on style and technology, but while you'd expect the drive to be just as exciting as the looks, the reality is that other Mercedes cars are more playful and dynamic on the road. If you want to experience an adrenaline rush with the CLA, you should wait for the high-performance AMG model, which hopefully we'll get to test drive sometime soon.
Test drive report
Test model

2020 Mercedes-Benz CLA

Trim level
CLA250 4Matic
Price range
$43,000 – $54,275
Price as tested
54 275 $
Warranty (basic)
N/A
Warranty (powertrain)
N/A
Fuel economy (city/highway/observed)
9,6 / 6,6 / 8,6 L/100km
Options
Premium Pack ($3,000), Technology Pack ($1,600), Intelligent Drive Pack ($1,900), Navigation Pack ($1,000), Head-up display ($1,500), Parking assist ($900), 360-degree camera ($650), Satellite radio ($475), Heated steering wheel ($250)
Competitive models
Acura ILX, Audi A3, BMW 2 Series, Infiniti Q50, Lexus IS
Strong points

Competent AWD system
Graphically impressive MBUX system
Superior aerodynamics
Confidence-inspiring ride and handling

Weak points

Overly sensitive driver assistance features
Overly sensitive touchpads
USB-C ports only
Tight rear seats

Editor's rating
Fuel economy
Fuel consumption is quite reasonable given the AWD system at work.
Comfort
The front seats are comfortable, but the rear seats offer tighter access and limited room.
Performance
Performance is decent but nowhere near exciting.
Infotainment
The MBUX system looks fantastic but requires some getting used to.
Driving
While the ride and handling inspire confidence, the CLA is not as playful and dynamic as other Mercedes cars.
Overall
The CLA 250 4MATIC carries an attractive base price, but the many options quickly push it out of reach.