Rivian Has a Super-cool Trick no Other Electric Truck Can do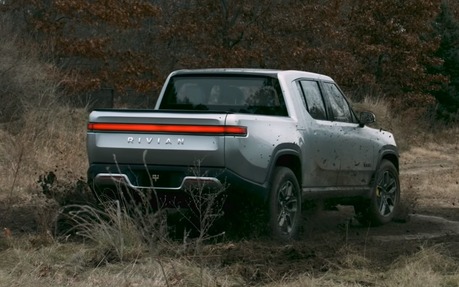 In an effort to stand out from the one-of-a-kind Tesla Cybertruck and other electric pickups on the way, Rivian has announced that its R1T will be available with a so-called "tank turn" function when it hits the market in late 2020.
Actually, both this model and the R1S SUV will offer the unique feature that makes it possible to perform a 360-degree turn by spinning in place like a tracked vehicle.
How? Since each wheel is powered by its own electric motor and controlled individually, the Rivian vehicles can simultaneously spin the left and right wheels in opposite directions.
There's one caveat: the manoeuvre needs to be performed on loose gravel or dirt or else in the mud. If drivers attempt to pull it off on dry pavement, things could get ugly for the vehicle's components, the company warns.
According to Autoblog, Rivian trademarked the terms Tank Turn and Tank Steer in October 2018. It just remains to be seen whether the function will be standard or optional.
In related news, the Ford- and Amazon-backed startup is reportedly working on a rally-inspired electric car, too, and this one could also be able to turn on a dime in tight off-road courses.