Toyota's Latest Concept is an Entire City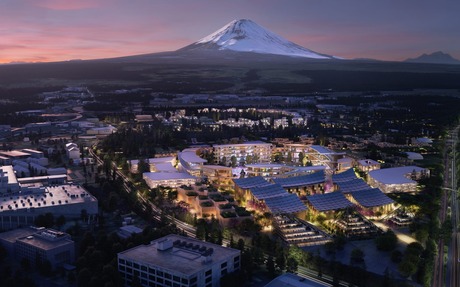 Japanese automaker Toyota had a mega-project to unveil at CES this week in Las Vegas. No, it's not some sort of connected car or autonomous driving technology, but rather a prototype city of the future to be built at the base of Mount Fuji in Japan.
Called Woven City, it will cover an area of 175 acres (the equivalent of 158 American football fields) and be home to approximately 2,000 full-time residents at the start of the project. The site will quickly grow into a "living laboratory" where researchers can test and develop technologies such as autonomy, robotics, personal mobility, smart homes and artificial intelligence in a real-world environment, Toyota explains.
"Building a complete city from the ground up, even on a small scale like this, is a unique opportunity to develop future technologies, including a digital operating system for the city's infrastructure. With people, buildings and vehicles all connected and communicating with each other through data and sensors, we will be able to test connected AI technology… in both the virtual and the physical realms … maximizing its potential," said Akio Toyoda, president, Toyota Motor Corporation.
To move residents through the city, only fully autonomous, zero-emission vehicles will be allowed on the main thoroughfares. In fact, most of the ecosystem will be powered by hydrogen fuel cells.
There will be streets for high-speed vehicles only, others for a mix of lower-speed vehicles, personal mobility and pedestrians, and dedicated alleys for pedestrians only. These three street types will weave together to form an organic grid pattern to help accelerate the testing of autonomy, according to Toyota.
As a fully sustainable town, Woven City will feature buildings made mostly of wood to minimize the carbon footprint, rooftops covered in photo-voltaic panels to generate solar power and a number of green spaces including a large central park and plaza for recreation and social gatherings.
Meanwhile, residences will be equipped with the latest in personal assistance technologies, such as in-home robotics to assist with daily living. They will use sensor-based AI to check occupants' health, take care of basic needs and enhance daily life. Let's just hope they won't turn on their occupants like in some sci-fi novels and movies…
For the design of Woven City, Toyota has commissioned Danish architecture firm Bjarke Ingels Group, which is better known for designing the 2 World Trade Center in New York, the Lego House in Denmark and the Google headquarters in Mountain View and London.
The ground-breaking for the site is planned for early 2021. Toyota has launched a website, Woven-city.global, to invite commercial and academic partners to collaborate.