Stripped-down Porsche 718 T Models Finally on Sale in Canada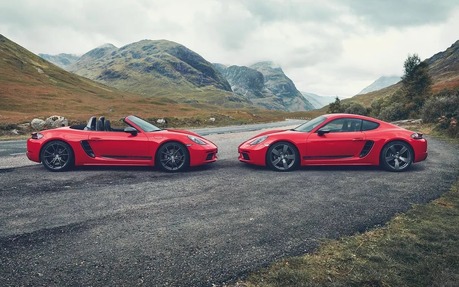 Just like it did with the 911, Porsche is now adding a lighter, more driver-focused model to its entry-level sports cars. With the 2020 718 Boxster T and 718 Cayman T, pure driving pleasure is what matters the most.
The cars were initially announced in December 2018, so Canadian customers were starting to get really impatient.
On the outside, the new Porsche 718 T models stand out with 20-inch alloy wheels in high-gloss titanium grey connected to a sports chassis that is lowered by 20 millimetres. Agate grey mirror shells and "718 Boxster T" or "718 Cayman T" logos on the sides and rear declare the model variant, and let's not forget the centrally mounted sports exhaust with black, chrome-plated twin tailpipes. There are nine body colours to choose from including Lava Orange and Miami Blue, which are both available on a special-order basis.
The simplified interior features red door pulls in addition to sports seats with electric two-way adjustment, black Sport-Tex centre sections and the "718" logo embroidered on the headrests. You'll find a number of sporty touches such as a GT sports steering wheel offering a particularly secure grip. Other "Boxster T" or "Cayman T" logos adorn the black instrument dials and the door sills, while the decorative trims of the instrument panel and centre console gleam in a glossy black finish.
Perfectly at home on winding country roads where they can showcase their dynamic abilities, the 718 Boxster T and 718 Cayman T make the most of a turbocharged 2.0-litre flat-four engine that produces 300 horsepower and reaches its maximum torque of 280 pound-feet at 2,150 rpm.
Given the car's weight of just 1,350 kilos, acceleration from 0-100 km/h is achieved in 5.1 seconds with the standard six-speed manual gearbox. While heavier at 1,380 kilos, models equipped with the optional dual-clutch PDK transmission handle this sprint in 4.7 seconds, essentially with the help of the Launch Control system.
The Sport Chrono package is standard for the 718 T and offers Normal, Sport, Sport Plus and Individual driving modes, which can be selected using the Mode switch on the steering wheel. You should also know that adaptive mounts minimize vibrations in the engine/gearbox area and reduce movements that could affect driving dynamics, resulting in greater precision and stability on fast corners.
Porsche Canada is already accepting orders and deliveries will start this summer. Prepare to pay at least $74,400 for a 2020 718 Cayman T or $76,800 for a 2020 718 Boxster T.
As for base and S trims, they get a $700 bump for 2020.