This Poor 2020 Chevy Corvette Just Got its Wheels Stolen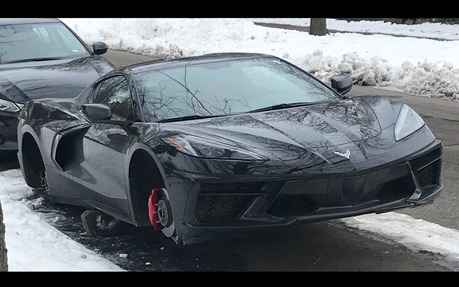 The new, mid-engine 2020 Chevrolet Corvette has generated a whole lot of attention and received tons of accolades since its debut last summer. For example, it recently won the North American Car of the Year award and the first production model sold for nearly $4 million at the Barrett-Jackson auction in Arizona.
But the eighth-generation (C8) Corvette has also had a run of bad luck. One car that was part of a convoy of Corvettes and other General Motors vehicles in California was severely damaged in a collision back in August. Then the UAW strike hit the automaker, postponing the start of production for the new Corvette until February.
Last week, two GM employees in Kentucky were caught speeding on public roads with C8 Corvette prototypes. They were soon fired.
And now there's this story of a poor Corvette that had its wheels stolen in a part of Detroit called West Village. According to Car and Driver, someone at GM left the car parked on the side of the street and thieves quickly pounced on it. Using cinderblocks, they managed to remove the beautiful 20-inch rims and tires worth several thousand dollars combined.
Let that serve as a lesson: If you plan to buy a new Corvette, invest in a good anti-theft alarm system and wheel locks. It's way cheaper than an entire set of wheels.