2020 Hyundai Sonata Hybrid Lands in North America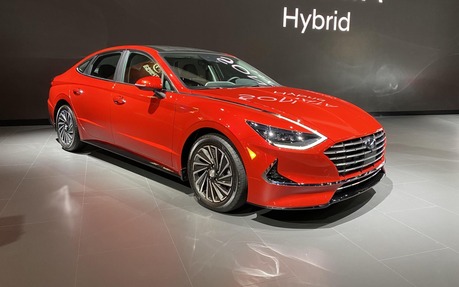 Following its world premiere in Korea last summer, the all-new 2020 Hyundai Sonata Hybrid made its North American debut on Thursday at the Chicago Auto Show.
Under the hood is a 2.0-litre Smartstream gasoline engine mated to a 39-kW electric motor and six-speed hybrid automatic transmission. Total system output is rated at 192 horsepower. This is virtually the same powertrain found in the previous generation.
You think fuel economy is the same, too? Wrong. The EPA ratings in the United States are out and there's an improvement of nearly 25 percent. We're still awaiting the numbers for Canada, but given that the current Sonata Hybrid achieves 5.6 L/100 km, it's reasonable to assume the new model will average close to 5.0 L/100 km.
For the record, the Toyota Camry Hybrid and Honda Accord Hybrid are the leaders in the segment with ratings of 4.9 and 5.0 L/100 km, respectively.
But how can the 2020 Hyundai Sonata Hybrid be more efficient if the powertrain is the same? First, there's the world's first Active Shift Control technology applying new control logic software to the power unit. Not unlike the rev-matching feature found on other cars, it controls the electric motor to align the rotational speeds of the engine and transmission to allow 30-percent quicker gear shifts. And since friction is minimized in the process, the transmission's durability is bound to increase, as well.
Furthermore, the new Sonata Hybrid is more aerodynamic (0.24 drag coefficient) thanks to active air flaps behind the grille, which close when less engine cooling is needed. A redesigned rear spoiler, aerodynamic wheels and various underbody panels also improve airflow.
As previously reported, the car even features a solar roof system that recharges the hybrid battery and 12V battery on the go while preventing unnecessary discharges when the car is off. With six hours of daily charging, owners should be able to increase travel distance by 1,300 kilometres annually, Hyundai claims.
Speaking of the battery, engineers optimized its placement to increase trunk capacity by 70 litres compared with the 2019 Sonata Hybrid. At the same time, they created best-in-class front headroom and legroom.
Naturally, you will also find the latest connectivity, safety and driver assistance features, including semi-autonomous driving capability on highways and BlueLink services allowing remote control and monitoring of certain vehicle functions.
The 2020 Hyundai Sonata Hybrid will go on sale this spring, though pricing remains unspecified. The outgoing model starts at $29,749. Also, we've learned from Autoblog that the Sonata Plug-in Hybrid will not return.