Rumour: 400-hp Engine Coming to Subaru WRX STI
A new generation of the almighty Subaru WRX STI is in the works and the latest details and rumours surrounding this model are quite exciting.
As a reminder, the brand's halo car received a few cosmetic tweaks this year, but its turbocharged 2.5-litre engine still produces 310 horsepower and 290 pound-feet of torque.
However, for 2021 or 2022, the WRX STI could get a serious boost under the hood.
Sources close to Subaru have told Forbes that the car will use a variant of the new 2.4-litre turbo engine found in the 2020 Legacy, Outback and Ascent, which is more efficient and capable of meeting stricter emissions rules. Thanks to a series of upgrades (reinforced crankshaft and pistons, optimized valve timing, higher boost pressure and more), output would increase spectacularly. We're talking about 400 horsepower and 361 pound-feet of torque.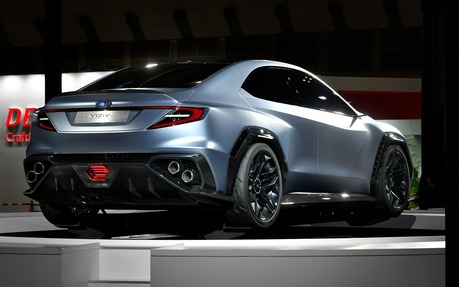 Apparently, Subaru engineers want to replicate what Mercedes-AMG has done with its 2.0-litre turbo a.k.a. the most potent production four-cylinder in the world delivering as much as 421 horsepower and 369 pound-feet of torque in the new A 45 et CLA 45.
Let's say this is all true. The question we must ask then is: will we see it in North America? And when exactly? Subaru has previously created high-output variants of the WRX and WRX STI for the Japanese market, but fans on this side of the Pacific were told to keep dreaming.
Right now, the most powerful Subaru we have is the 341-horsepower WRX STI S209, although that special edition is limited to just over 200 units and sold in the U.S. only (where it starts at a mind-blowing $64,880).
The next-generation WRX STI will also ride on the new Subaru Global Platform, which underpins the company's latest models. As for styling, it's expected to take inspiration from the stunning VIZIV Performance concept introduced at the 2017 Tokyo Auto show (see pictures above). And let's pray for a return of the five-door hatchback!