GM's Future EVs Finally Come into Focus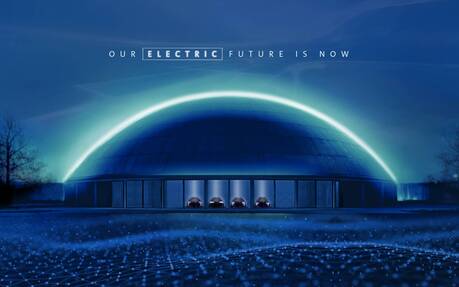 General Motors' presentation inside the Design Dome at its Tech Center in Warren, Michigan yesterday not only included a new, ultra-powerful battery with up to 645 kilometres of range, but also a glimpse and a few details about its upcoming electric vehicles.
Unfortunately, no cameras were allowed, and except for that battery and the platform that supports it, the pictures released by the manufacturer are only teasers.
Chevrolet
A new Chevrolet Bolt EV will be launched this fall as a 2021 model with a significantly upgraded interior… and hopefully more comfortable seats. It will be followed next summer by the 2022 Bolt EUV crossover. Barely larger than the hatchback, it will become the first non-Cadillac vehicle to offer Super Cruise semi-autonomous driving technology, which GM wants to include in 22 different models by 2023.
A still-unnamed midsize electric SUV will be introduced at some point. This one will have a sleek silhouette, a digital instrument cluster and a massive 18-inch centre touchscreen. GM also hinted at a full-size electric pickup from Chevrolet, though we don't know if it will bear the name Silverado.
Cadillac
While the Cruise Origin self-driving, electric shared vehicle was the first product revealed using GM's third-generation EV platform and Ultium battery, the second will be the Cadillac Lyriq SUV on April 2, a week before the New York Auto Show. Roughly the same size as the XT5, it rides on 22-inch wheels and features a gigantic 34-inch display.
Without providing a specific date, the company also shared details about a new halo sedan that will offer the ultimate luxury experience, the Cadillac Celestiq. Hand-built in limited numbers and highly customizable, this car will have a very long wheelbase and roofline, not to mention wheels up to 23 inches. Its design actually served as inspiration for the others. Inside, look for a digital display that covers the entire width of the dashboard.
GM's presentation included another big surprise in the form of a large Cadillac SUV sized like the Escalade, with 24-inch alloys pushed to the corners and the same pillar-to-pillar display as the Celestiq. This confirms rumours of an electric Escalade… unless a different name is chosen.
GMC Hummer
The GMC Hummer EV lineup will make its official debut on May 20, with production set to begin in the fall of 2021 in Detroit-Hamtramck, GM's first assembly plant 100 percent dedicated to EVs. There will be a regular SUV in addition to the previously announced pickup, the latter featuring removable roof panels and a version of GMC's Multi-Pro tailgate. Output will reach 1,000 horsepower and 11,500 pound-feet of torque in the most potent configuration.
The battery will have a capacity of up to 200 kWh, allowing a maximum range of 645 kilometres that compares to the upcoming Rivian models but falls short of the mightiest Tesla Cybertruck (800 kilometres). It will also have 350-kW fast-charging capability.
Buick
Buick will get its own midsize electric SUV, similar to Chevrolet's and the Cadillac Lyriq. Just a tad bigger than the Envision, it will feature a 30-inch combined instrument cluster and infotainment display.
A smaller crossover, kind of like a raised hatchback along the lines of the Buick Velite planned for China, will be part of the Buick lineup, as well. In fact, picture it as a classier Bolt EUV.
We will obviously have more information and images to share in the next few weeks and months, so stay in touch.