All-new 2021 Genesis G80 Revealed Online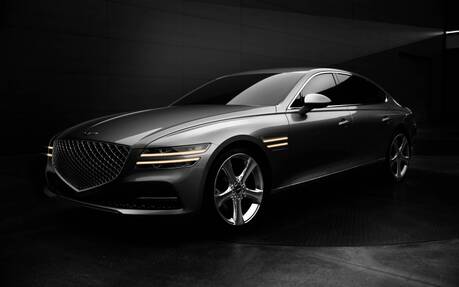 Genesis unveiled the new 2021 G80 this week in Seoul, South Korea.
The gigantic "Crest" grille and the two lines of the "Quadlamps" circumventing all sides of the midsize sedan are signature design elements of the brand, first introduced on the all-new GV80 SUV. Together, they mimic the logo of Genesis.
The daytime running lights seem to carry over to the front fenders, while the long, sweeping "Parabolic Line" from front to rear evokes the elegance of classic cars of the past. Large 20-inch wheels complete the look.
Inside, the dashboard is deconstructed to an expansive open space featuring a wide, 14.5-inch infotainment screen. Special care was taken to reduce the thickness of the A-pillars and the size of the rear-view mirror, giving the driver a better view of the road.
Further details about the new design, platform, powertrains and advanced driver assistance systems will be revealed later this month. We can tell you for sure that all Canadian-spec models will come standard with all-wheel drive.
The 2021 Genesis G80 is set to go on sale in the Korean market in March and in North America during the second half of 2020.