Ford Econoline Turned Boat on Wheels Now Listed on eBay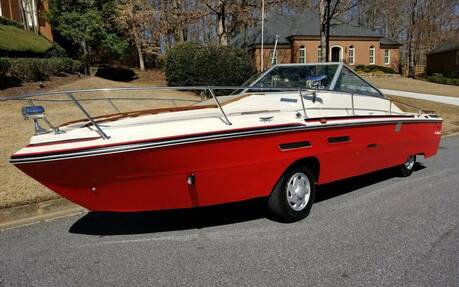 A resident in the state of Georgia by the name of Mark is selling a pretty unique vehicle on eBay.
The man removed the body from a 1995 Ford E-350 van and used the ladder frame to mount a 7.3-metre-long Sea Ray Cabin Cruiser boat. As you can see from the pictures, we're not joking.
As Autoblog points out, the unorthodox crossover—which took six months to complete—can no longer roam the seas. However, it can legally drive on the street.  
The original plastic hubcaps, steering wheel and dashboard remain. Same thing for the E-350's V8 engine. The odometer reads 158,000 miles, the equivalent of 254,000 kilometres.
There are two front buckets, a second-row bench seats and two longitudinal benches in the rear. You won't find seatbelts on those, however. On the other hand, the builder added a loud ship horn.
So, how much does this thing cost exactly? The listed price is $55,000 USD (approx. $78,700 CAD), but the seller is open to offers, too. And you don't even have to remember which side is port and which side is starboard!