AJAC Announces Canadian Green Car and Utility Vehicle of 2020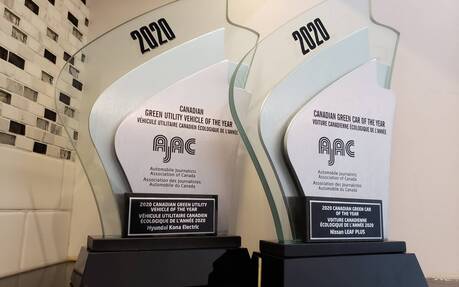 The Automobile Journalists Association of Canada (AJAC) has revealed the identity of the 2020 Canadian Green Car of the Year and Canadian Green Utility Vehicle of the Year.
The trophies were awarded virtually via Facebook instead of a live ceremony at the Vancouver International Auto Show, which was previously cancelled due to the limitations imposed by the COVID-19 crisis.
For the second year in a row, the Nissan LEAF Plus won the title among all green cars. The other finalists were the Nissan Altima and Volvo V60 Polestar.
More powerful (214 hp) and offering a longer range than the standard LEAF, the LEAF PLUS can travel up to 363 km on a single charge thanks to its 62-kWh battery. It also features the innovative e-Pedal system, which allows one-pedal driving 90 percent of the time. Steering is precise and the ride is smooth.
"We are honoured to accept this award from AJAC for the Nissan LEAF, and for the second year in a row. The Nissan LEAF Plus is symbolic of not only the numerous benefits it provides to its customers, but also represents Nissan's overall dedication to facilitate zero-emission mobility for generations to come," says Steve Milette, president of Nissan Canada. "The momentum continues to build for electric cars in Canada, and the AJAC Canadian Green Car of the Year Award shines a light on this important segment."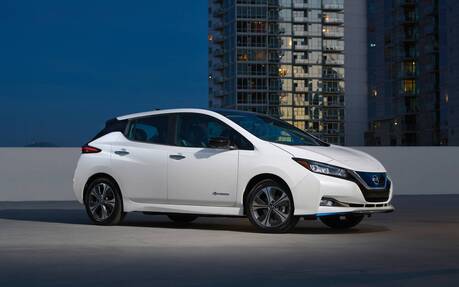 Meanwhile on the utility vehicle side, AJAC members preferred the Hyundai Kona Electric over its big brother, the hydrogen-powered Nexo, and the acclaimed Jaguar I-PACE, which previously secured the 2019 and 2020 Canadian Utility Vehicle of the Year awards.
The fully electric variant of the highly popular Kona provides a range of up to 415 km with a 64-kWh battery. Its 150-kW motor produces 201 horsepower and 290 pound-feet of torque, resulting in brisk acceleration. Fun handling and a versatile interior are also part of the mix.
"The Kona Electric has been an absolute star for Hyundai since it arrived in Canada. It combines luxury features with over 415 km of range, all in a compact utility package. That's exactly what people are looking for these days," said Don Romano, President and CEO of Hyundai Auto Canada. "We are very happy this fantastic vehicle has been recognised by AJAC."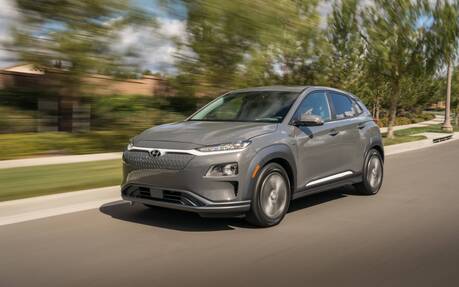 The focus now shifts to the announcement of the 2020 World Car of the Year, which will take place in mid-April. The three finalists are the Mazda3, Mazda CX-30 and Kia Telluride.