2020 Jeep Gladiator Rubicon: Going to Extremes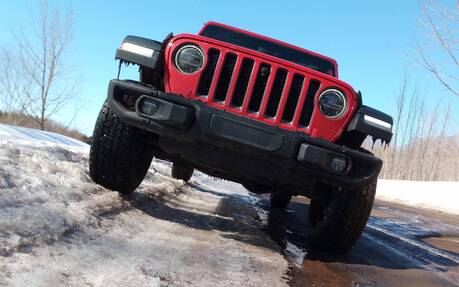 FCA has seemingly become the go-to manufacturer for pickups. The next-generation Ram 1500 is The Car Guide's Best Buy among full-size pickups for the second consecutive year, while the all-new Jeep Gladiator is our Best Buy in the midsize pickup segment.
These two models have even been named the 2019 and 2020 North American Truck of the Year in succession, which is quite a feat.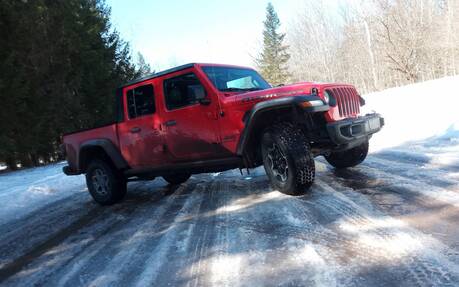 Exceptional Capabilities
If the Gladiator deserves so much praise, it's largely because of its exceptional capabilities for work and off-road driving. Equipped with the renowned 3.6-litre Pentastar V6 engine, it boasts the best towing (7,650 pounds) and the best payload (1,600 pounds) among all 4x4 midsize pickups.
Our latest test drive took place just as winter was wrapping up and involved a Rubicon model, the king of all-terrain adventures. This one stands out with a heavy-duty Rock-Trac 4WD system, beefier axles with locking differentials, a raised suspension featuring special FOX dampers, a front sway bar with electronic disconnect, underbody skid plates, front and rear tow hooks, a winch-compatible front bumper and an available front-mounted TrailCam.
That last item proves quite useful as it allows you to see precisely the terrain you're attacking on the centre touchscreen. And when there's mud or dust on the lens, a button on the same screen sends washer fluid to clean it.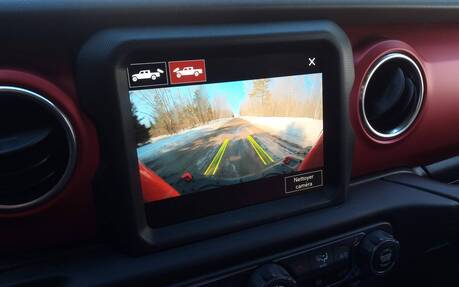 Loving Life Away From the City
FCA has created a unique life-size toy that is best appreciated away from the city and deep into the backcountry. If you're looking for a comfortable, quiet and fuel-efficient midsize truck, this is clearly not it.
Since snow and ice were still covering a good portion of the landscape, we were obviously unable to fully exploit the tremendous potential of the Gladiator Rubicon. What we can tell you, however, is that it beautifully takes the blows on crater-filled dirt roads and washboards. The highly rigid chassis and reinforced suspension using Ram-derived control arms do an excellent job of keeping body movements in check, but let's not forget the burly 33-inch Goodyear Wrangler all-terrain tires.
The Gladiator delivers a healthy 285 horsepower and 260 pound-feet of torque. Mated to the optional eight-speed automatic transmission (a six-speed manual comes standard, even in Rubicon trim), the engine impresses at full throttle. On the other hand, we noticed some hesitations at lower speeds. We also wish the two-speed transfer case lever was easier to move.
The Rubicon's superior ground clearance (11.1 inches) and extremely favourable approach and departure angles (43.4 and 26.0 degrees, respectively) give you all the confidence you need to climb hills and overcome obstacles. Braking is wisely calibrated and less prone to nosediving than we anticipated, while the overall balance of stability and agility is commendable. In 4x2 mode, it's a lot of fun to send the rear end sideways on a muddy road and bring it back under control when you want to.
We'll give the Gladiator extra points for the Rubicon-exclusive Off-Road+ system, which automatically adjusts the throttle, transmission and stability control based on the terrain. It also displays many relevant bits of information on the screen including lateral and longitudinal inclination.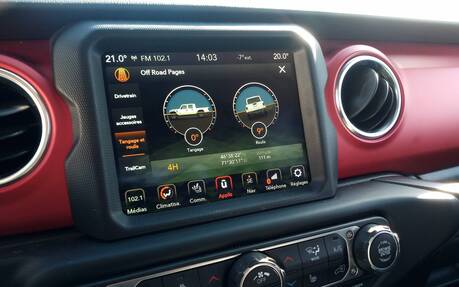 One Size Fits All
The Jeep Gladiator is available in a single body style featuring four doors and a five-foot steel bed. When dropping the tailgate, you can fit a pair of dirt bikes or an ATV for those tight trails where the truck can't go.  
The interior—one of the 10 best in the industry according to Wards—stands out from every other pickup for many reasons. Storage may not be as generous, but the design and space are quite pleasing, the controls and ergonomics are user-friendly, material selection in Rubicon trim is great and the Uconnect infotainment system generates virtually no complaints (Apple CarPlay and Android Auto are both offered). Things will get even better next year with the introduction of next-gen Uconnect 5.
On the flip side, the seats are rather firm and lack thigh support, wind and tire noise is quite present at high speeds and visibility isn't the best. Also, some owners might want to sacrifice a bit of ground clearance by adding side steps to make access to the cabin easier and reduce the likelihood of getting their pants dirty when exiting the vehicle.
Given the cold temperatures, we didn't drive without the doors or roof (or even with the windshield folded). However, you should know that the front panels of the optional Freedom Top hardtop are easy to remove, while the rear one requires tools and the help of a friend.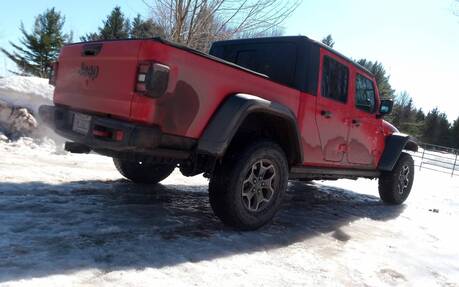 Do You Really Need it?
Pricing is without a doubt the biggest hurdle between the 2020 Jeep Gladiator and potential buyers. The MSRP is $45,495 for the base model and $52,495 for the Rubicon. Add the Leather, Cold Weather, LED Lighting, Navigation and Safety packages, the aforementioned hardtop and automatic transmission, plus various other options like those on our tester, and you get a final price of $69,040, freight and delivery included. Imagine if you also select the EcoDiesel V6 (260 horsepower, 442 pound-feet) that will soon join the lineup!
Granted, the Gladiator Rubicon is a niche product. As the most versatile and capable midsize pickup on any terrain, it's designed for hardcore Jeep enthusiasts who longed for a Wrangler with a bed and serious adventurers who know how to take advantage of its exceptional abilities.
Slightly less expensive and probably more reliable in the long run, the Toyota Tacoma TRD Pro and Chevrolet Colorado ZR2 Bison are two direct competitors you should consider, as well. Take some time to really assess your needs and budget, and remember that even a base Gladiator will trump the majority of rivals.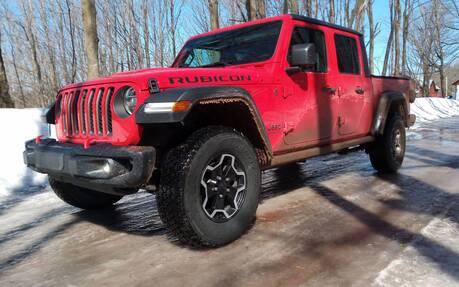 Test drive report
Test model

2020 Jeep Gladiator

Trim level
Rubicon (auto)
Price range
$45,495 – $52,495
Price as tested
69 040 $
Warranty (basic)
3 years/60,000 km
Warranty (powertrain)
5 years/100,000 km
Fuel economy (city/highway/observed)
13,7 / 10,7 / 14,8 L/100km
Options
Leather, Cold Weather, LED Lighting, Navigation and Safety packages; Freedom Top hardtop; automatic transmission; and more
Competitive models
2020 Chevrolet Colorado, 2020 GMC Canyon, 2020 Ford Ranger, 2020 Toyota Tacoma
Strong points

Superior power and versatility
Tremendous off-road tech and capabilities
A cabin unlike any other

Weak points

Steep price
Clumsy ride and handling around town
Disappointing fuel economy and noise insulation

Editor's rating
Fuel economy
We averaged 14.8 L/100 km while the official combined rating is closer to 12.5 L/100 km. In both cases, that's disappointing.
Comfort
Wind and tire noise, the lack of thigh support from the seats and a clumsy ride around town take points off the score.
Performance
The 285-horsepower V6 and automatic transmission deliver impressive acceleration. The 4WD system does an excellent job, too.
Infotainment
The Uconnect infotainment system generates virtually no complaints. Apple CarPlay and Android Auto are both offered.
Driving
FCA has created a unique life-size toy that is best appreciated away from the city and deep into the backcountry, where it can display its exceptional skills.
Overall
The Gladiator Rubicon is an expensive niche product, sure, but it's the most versatile and capable midsize pickup on any terrain.