2021 Genesis G80 Unveiled and Detailed a Bit Further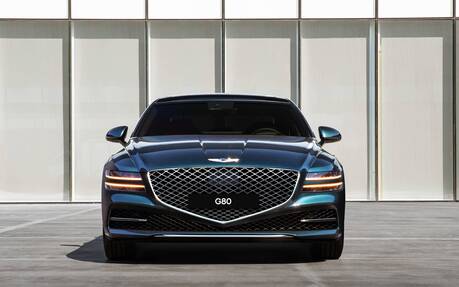 Following a teaser in early March, the refreshed 2021 Genesis G80 midsize luxury sedan was unveiled virtually today.
The exterior design is in line with the new language introduced by the GV80 crossover, particularly the front section. Inside, Genesis raised the level of refinement and opulence, for example with higher-quality materials. We'll check that out when we get our first crack at the car.
The dashboard and centre stack feature fewer buttons for a cleaner look. Hopefully, the controls will be just as user-friendly as those in the current model. The G80 also comes standard with a 12.3-inch digital instrument cluster and a wide 14.5-inch centre display.
Furthermore, Genesis says the windshield and side windows are made of acoustic glass for an even quieter driving experience.
Two Engines, Standard AWD
Every 2021 Genesis G80 sold in Canada will feature all-wheel drive as standard. It's worth noting that the chassis is now 125 kilograms lighter and the suspension is electronically controlled to improve handling and performance.
Two turbocharged engines will be available starting with a 2.5-litre four-cylinder rated at 300 horsepower and 311 pound-feet of torque. The other is a 3.5-litre V6 producing 375 horsepower and 391 pound-feet of torque. Sadly, the naturally aspirated 5.0-litre V8 has been eliminated. We quite liked that big motor as it made the drive really interesting.
The updated Genesis G80 also features more advanced safety and driver assistance technologies such as highway assist with lane-changing capability (similar to Cadillac's Super Cruise), traffic assist and adaptive cruise control with machine learning (similar to Tesla's system).
Some of the luxury highlights include smart seats that adjust their level of comfort and support based on the drive mode. They also boast a "stretch" function to help limit driver fatigue. Let's not forget the optional air purification system that automatically activates whenever the air outside the car is too contaminated.
The 2021 Genesis G80 will go on sale in Canada in the second half of this year. More information will be disclosed at a later date.