This New LEGO Set is Made for "Fast and Furious" Fans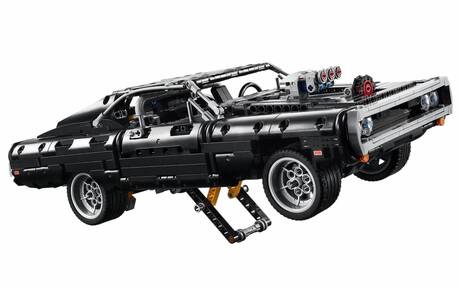 LEGO has released a new building set that will please fans of the Fast and Furious movies, especially with the ninth installment being postponed until April 2021 due to the COVID-19 pandemic.
Designed for both children age 10 or older and adults, Dominic Toretto's 1970 Dodge Charger R/T is a faithful replica packed with realistic details including the black body, oversized wheels, dual-bottle nitrous kit, detailed roll cage and California licence plate (2JRI424). Oh, and the big V8 engine protruding through the hood, of course.
There are several moving parts, as well, such as the wheels, suspension, air blower and steering. The car can rest on four wheels or in a wheelie stance thanks to a flip-down prop stand. No batteries are required.
The 1,077-piece building set from the LEGO Technic series measures 15" (39cm) long, 6" (16cm) wide and 4" (11cm) high. You can pre-order it now at $139.99. Shipping will begin on April 27.