2020 Subaru WRX Sport-tech RS: A Mighty Fine Driver's Car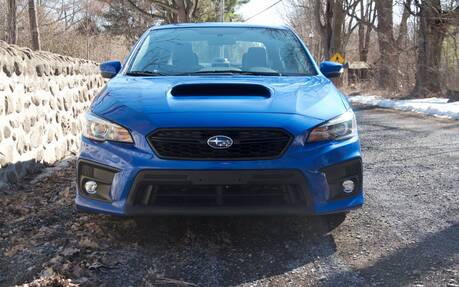 The WRX STI is Subaru's halo car and its most desirable product—at least in the eyes of sporty driving enthusiasts. 
A bit less flashy and not quite as sophisticated from a technical standpoint, the base WRX is still a treat, not to mention that it's perfectly suited to Canadian weather. We've recently put one to the test in Sport-tech RS trim.
Recaro and Brembo Mix
This top-line WRX model stands out with key upgrades such as Brembo brakes featuring four-piston front and dual-piston rear callipers painted in red, plus heated Recaro front buckets wrapped in leather and ultrasuede. It's also exclusively available with a six-speed manual transmission, whereas the WRX Sport-Tech can be had with a CVT.
The engine in all of them is a turbocharged 2.0-litre four-cylinder boxer that produces 268 horsepower and 258 pound-feet of torque.
As a real driver's car slotting just below the almighty STI, the WRX Sport-Tech RS is fairly expensive, with pricing that starts at $41,658 (freight and delivery included). Consider that the 310-horsepower WRX STI retails from $42,258, so the gap between the two is pretty small.
The Good and the Bad on the Road
Manual sports cars are increasingly rare nowadays. Heck, you could say they're an endangered species. We're glad the Subaru WRX still offers one, even though the shifter has excessively long throws. 
The transmission itself has tight ratios and helps deliver strong acceleration… provided that you make the most of the torque curve. It makes you feel in control and is much more rewarding than any automatic—CVT or other. Sadly, rowing your own gears is becoming a lost art.
There's a price to pay at the pump, mind you. The WRX Sport-tech RS is rated at 11.3 L/100 km in the city, 8.5 L/100 km on the highway and 10.1 L/100 km combined. On our watch, the car averaged 10.6 L/100 km, which is not very good.
Other complaints include a relatively stiff ride and noisy cabin, although you can fix the latter by cranking up the volume of the nine-speaker Harman Kardon audio system featuring a subwoofer and 320W amplifier.
Like an STI, but More Subtle
As mentioned earlier, the WRX isn't quite as flashy as the STI in terms of styling, but there's still that big hood scoop to remind everyone that this car means business.
The interior has a cockpit feel, especially with the 5.9-inch LCD display showing turbo boost pressure, engine vacuum and peak boost value readouts at the top of the centre stack.
Alas, Subaru's EyeSight advanced driver assistance system can't be had with manual versions of the WRX Sport-tech RS. Only those with a CVT offer it as an option. EyeSight includes Adaptive Cruise Control, Pre-Collision Braking, Pre-Collision Throttle Management, Lead Vehicle Start Alert, Lane Departure Warning, Lane Sway Warning and Lane Keep Assist.
The Future
The 2022 model year should logically bring a next-generation WRX (and WRX STI) based on the Subaru Global Platform that underpins all of the company's latest vehicles.
Rumour has it that a variant of the turbocharged 2.4-litre engine found in the new Legacy, Outback and Ascent will be part of the equation, likely with revised internals and a larger turbo. There's even talk that the STI could generate upwards of 400 horsepower to keep pace with the next Volkswagen Golf R, which will reportedly get a massive boost in power, as well.
We expect the six-speed manual gearbox to carry over on both, with the base WRX also offering a CVT. Until then, look for some limited-edition models such as the recently unveiled 2020 WRX STI Kanrai (75 units in Canada).
Our Verdict
The Subaru WRX is a performance car that's incredibly at ease in low-grip conditions and always a joy to drive. The tradeoff is sub-par comfort and SUV-like fuel consumption. Styling is not everyone's cup of tea, too.
But since we live in a world where fun and affordable sports cars are becoming harder to find, we're just happy Subaru is keeping the WRX alive.
Test drive report
Test model

2020 Subaru WRX

Trim level
Sport-tech RS
Price range
$39,695
Price as tested
CA$39,695
Warranty (basic)
5 years/100,000 km
Warranty (powertrain)
5 years/unlimited
Fuel economy (city/highway/observed)
11.3 / 8.5 / 10.6 L/100km
Options
None
Competitive models
2019 Volkswagen Jetta GLI (man)
Strong points

Superb AWD system
Excellent handling
Six-speed manual gearbox
Recaro seats and Brembo brakes

Weak points

High fuel consumption
Long-throw shifter
Not a lot cheaper than the STI
No EyeSight safety system

Editor's rating
Fuel economy
On our watch, the WRX averaged 10.6 L/100 km, which is comparable to some SUVs.
Comfort
A relatively stiff ride and noisy cabin compromise comfort.
Performance
The WRX delivers strong acceleration… provided that you make the most of the torque curve.
Infotainment
The system is generally good and Apple CarPlay is included.
Driving
The chassis is beautifully balanced and handling is excellent.
Overall
The WRX Sport-tech RS is great, but the price gap with the STI is so small that we'd recommend the latter instead.