NASCAR Steps up in Fight Against COVID-19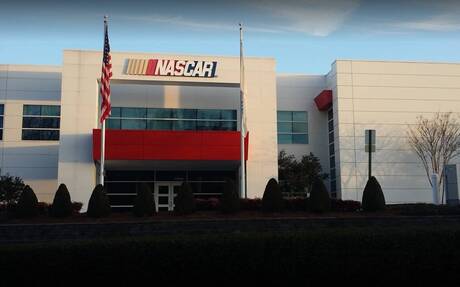 With the COVID-19 pandemic compromising all NASCAR races through May 3, series officials and teams stepped up to keep fans entertained with the launch of the eNASCAR iRacing Pro virtual championship on March 22.
More importantly, like many other businesses in North America, they are using their expertise and resources to help those in need.
The NASCAR Research & Development Center, located outside Charlotte, North Carolina, is manufacturing face shields with its 3D printers and even a prototype human head that Wake Forest University doctors and scientists are using to research better treatment supply options.
The nearby Charlotte Motor Speedway's zMAX Dragway has been turned into a coronavirus testing center. Other NASCAR venues are doing the same or hosting blood drives for local banks.
Naturally, several teams are getting involved, as well. Roush Fenway Racing, for one, has developed a special prototype "transport box" that helps provide a safe, workable barrier between COVID-19 patients and the many medical personnel treating them in hospital rooms and transporting them on hospital floors.
Team Penske is assisting its technical partner Stratasys by making 3D-printed face shields at the race shop.
Meanwhile, drivers such as Jimmie Johnson, Dale Earnhardt Jr., Denny Hamlin and Kevin Harvick are working in their communities and raisings funds for various foundations and charities.
On a related note, due to COVID-19, NASCAR has decided to postpone the debut of its Next Gen Car until the 2022 season. Testing began last October and the plan was to start using it in 2021.
In addition to a new body design, look for a shorter rear spoiler, a raised splitter, larger brakes and 18-inch single center-locking lug BBS wheels.