Watch: 1,000-hp Hennessey Jeep Gladiator Hits the Desert!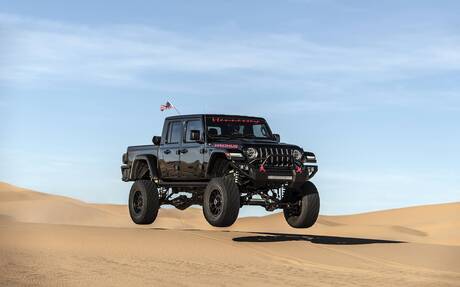 Remember that insane Jeep Gladiator developed by Texas-based tuner Hennessey Performance last year? The one that goes by the name of "MAXIMUS 1000" because it packs a 1,000-horsepower Hellcat engine?
Well, following a series of endurance tests in the desert, this badass truck is back in a spectacular new video.
Before we let you watch it, a quick refresher. Those 1,000 ponies are backed by 933 pound-feet of torque and controlled via an eight-speed automatic transmission with the help of heavy-duty off-road axles featuring Dana 60 differentials.
Other highlights include MAXIMUS front and rear bumpers, 20-inch Hennessey wheels with BFG off-road tires, extra LED lights, an upgraded suspension system featuring a six-inch lift and a custom leather interior with Hennessey and MAXIMUS embroidered seats.
What a great way to convince potential buyers! After seeing the MAXIMUS 1000 in action over sand dunes, how can you not love it?
Oh, that's right: pricing starts at a whopping $225,000 USD (approx. $315,000 CAD), including the donor truck. Four of the planned 24 units have been built and delivered already, but Hennessey has told Carbuzz that orders will end on April 24. You have less than two weeks to make a decision!