COVID-19: GM's Oshawa Plant to Make Face Masks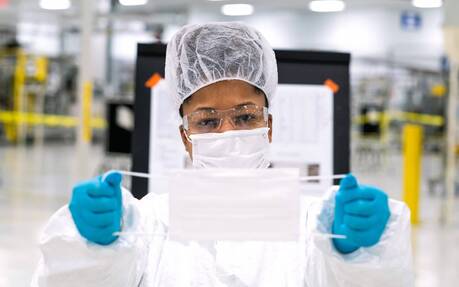 General Motors of Canada has just announced that parts of its Oshawa assembly plant in Ontario will be used to make face masks in order to meet the urgent need across the country, particularly for health care professionals.
These masks will be identical to those already being manufactured by the automaker at its Warren plant in Michigan (see pictures). The plan is to make approximately one million masks per month with an estimate of 50 employees supporting two shifts of production.
According to GM, preparation is under way but still requires completion of additional work with the various governments and members of the Unifor union.
"This is a proud day for all the employees of GM Canada to be preparing the Oshawa plant to make millions of face masks at cost to help Canada fight this COVID-19 Emergency," said Scott Bell, president and managing director, GM Canada. "We look forward to partnering with our government and union partners to make this happen quickly."
In case you forgot, the Oshawa plant stopped producing vehicles on December 18, 2019, putting an end to a tradition that started over a century ago. In the final days, it served as final assembly for unfinished, last-generation GMC Sierra and Chevrolet Silverado pickups from a plant in Indiana. Most of these were then shipped back for sale in the U.S.
GM Canada then decided to invest more than $170 million to convert the Oshawa plant into a stamping operation for its other factories. Around 300 employees will be needed going forward.
Also, Oshawa will continue to be home to GM Canada's head office and engineering centre. A test track for autonomous and connected vehicles will be built along with a parts plant.