Would the 2021 Ford F-150 be Cooler With a Retro Look?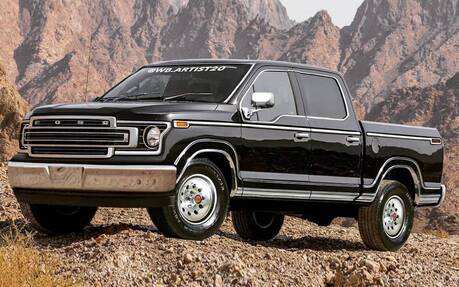 Given the current situation with COVID-19, nobody knows exactly when the all-new 2021 Ford F-150 will officially debut. We've had a few previews so far with a partially camouflaged pickup being tested on the road near Dearborn, Michigan and images showing a largely transformed cabin.
While the design won't be revolutionary, it's safe to expect a very modern and advanced truck that will make loyal customers happy. But we have to ask: would the new F-150 be cooler with a retro look?
The question comes from seeing the work of an artist known as Oscar V on Instagram. Taking inspiration from 1970s Ford F-Series pickups, he reinvented the current 2020 F-150 with a number of classic design cues.
First, there are circular headlights in place of the blocky LEDs, while the grille gets rid of the blue oval badge and receives "FORD" lettering in the upper section.
Moreover, the bumpers and side mirrors get the full chrome treatment (the latter with a classic shape and manual adjustments). The artist also added a full-length chrome strip below the windows and another one around the wheel arches and along the door bottoms. The rims have a chrome finish and a vintage look, as well.
Do you like it?
As for the actual 2021 Ford F-150, several sources report that orders will begin in mid-June and production is set to start in September. Keep following The Car Guide for more details.