2020 Audi Q3: From Last to First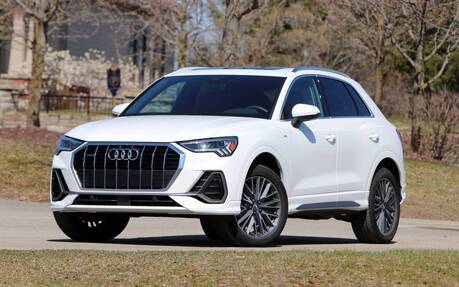 The second-generation Audi Q3 is starting to become a common sight on Canadian roads. And it's no surprise: the popularity of urban luxury crossovers is skyrocketing.
Cadillac, Jaguar, Lexus and Volvo have all jumped on the bandwagon lately, hoping to catch the Germans.
The BMW X1 took an early lead when it launched in 2010—and is now joined by the X2. Over at Mercedes-Benz, the GLA has been around for several years and recently got a complete makeover—not to mention a big brother in the form of the all-new GLB. As for Audi, the Q3 means business more than ever.
The One and Only Audi Q3
While European customers can also purchase the Q3 Sportback and 400-horsepower RS Q3, Canadians only get the standard Q3. Following a redesign for 2019, the model has grown in size and proves more comfortable than its predecessor. It also shares many design cues with the brand's other SUVs, particularly the large Q8 and the fully electric e-tron. The Singleframe grille, sharp headlights and strong beltline define the new Q3's visual signature and make for a much more appealing package than the old one.
The 2020 Audi Q3 is available in three trim levels including Komfort, Progressiv and Technik. The last two come standard with an S-Line pack featuring sport bumpers, rocker panel mouldings and 19-inch wheels. Optionally, buyers can select an S-Line sport pack ($800), which adds 20-inch wheels, matte brushed aluminum inlays, sport seats and more. Unless you don't want seat bolsters, it's a must.  
The interior is roomier and more practical than before. While the cargo area is technically smaller than the BMW X1's, it benefits from split rear seats that not only fold flat but also slide fore and aft, allowing you to maximize either passenger room or cargo room. The seatbacks are adjustable, too, so it's easier to install a child seat.
Fit and finish is vastly improved, the dashboard is much more ergonomic than in the past and the driving position is more comfortable. While the cockpit's layout is very similar to that of the Volkswagen Tiguan, which seems to offer more bang for your buck, there is a world of difference in terms of quality and attention to detail. Simply put, the new Audi Q3 stands in a class of its own.
The mid-level Progressiv model clearly is the one that offers the best value—and the most popular among customers. It features many desirable amenities such as a garage door opener, a power liftgate, numerous driving aids and all sorts of interior accents for a superior luxury feel.
The high-end Technik model adds a 12.3-inch digital instrument cluster, navigation, a 360-degree camera system and a fantastic Bang & Olufsen stereo, among other things. It's also the only one to offer wireless Apple CarPlay and Android Auto compatibility (the others require a cable).
Audi Copying BMW?
The lone engine choice with the 2020 Audi Q3 is a turbocharged 2.0-litre four-cylinder producing 228 horsepower and 258 pound-feet of torque via a standard AWD system and eight-speed automatic transmission. Sounds familiar? That's because it's the same exact powertrain found in the BMW X1 and X2. Naturally, the performance figures are similar: the Q3 accelerates from 0-100 km/h in 7.1 seconds versus 7.2 seconds for the Bavarian duo.
As history has shown, having identical specs to your competitor doesn't necessarily guarantee the same level of sportiness or the same thrills. Truth be told, the Q3 and X1 are fairly different from that perspective and crowning a winner is just a matter of personal taste.
It must be said, however, that the old Q3 was much less refined on the road, slower and equipped with an outdated transmission. The new generation, based on the MQB platform, has really improved in terms of handling and driving dynamics. The available adaptive steering (part of the S-Line pack) makes city driving easier while providing greater feedback. Also, the little crossover now proves more stable and surefooted in corners, which boosts driver confidence and enjoyment.
The aforementioned engine is lively, full of torque and blessed with a transmission that never hesitates. There's still a bit of turbo lag, though, which takes away some of the fun especially when sprinting from a standstill.
Another disappointment comes at the pump: with a combined rating of 10.6 L/100 km, the Audi Q3 is about 10 percent less fuel-efficient than competitors—16 percent less when compared with the X1.
The Best Buy You Can Make
Ultimately, the 2020 Audi Q3 is a great product. Just how great? Well, it earned our Best Buy award in the Small luxury SUV category, offering world-class levels of build quality, refinement, versatility and handling. You'll surely be tempted by one of the two higher-end models on the menu, which are admittedly expensive but still competitively priced in relation to the Q3's closest rivals.
Gabriel Gélinas drives the 2020 Audi RS 6 Avant
Test drive report
Test model

2020 Audi Q3

Trim level
45 TFSI Progressiv
Price range
$38,900 – $45,900
Price as tested
CA$44,350
Warranty (basic)
4 years/80,000 km
Warranty (powertrain)
4 years/80,000 km
Fuel economy (city/highway/observed)
12.3 / 8.6 / 10.7 L/100km
Options
Driver Assistance Package ($1,150), S-Line Sport Package ($800)
Competitive models
2020 BMW X1, 2020 Cadillac XT4, 2020 Buick Encore GX, 2020 Lexus UX, 2020 Mercedes-Benz GLA, 2020 Volvo XC40
Strong points

Pleasant ride and handling
New cabin is roomier and more versatile
Superb build quality
Comprehensive list of features and gadgets

Weak points

Disappointing fuel economy
Noticeable turbo lag
RS Q3 is not available in North America

Editor's rating
Fuel economy
The Q3 averaged close to 11 L/100 km on our watch, which is frankly disappointing.
Comfort
A definite improvement. The ride is better, the cabin is quieter and the driving position is more comfortable.
Performance
The horsepower count is not that impressive, but the engine feels lively and strong enough to put a smile on your face.
Infotainment
The system is easy to use and nicely positioned. Bonus points for wireless Apple CarPlay and Android Auto compatibility.
Driving
The new Q3 excels in terms of ride and handling, although turbo lag is still present in typical Audi fashion.
Overall
What a great surprise! The Q3 has gone from last to first in a really short period of time.