Aston Martin DB5 Resumes Production With 007 Gadgets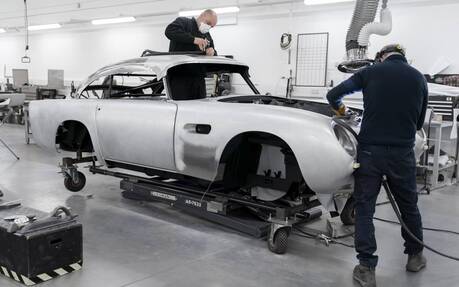 The Aston Martin DB5 is widely regarded as one of the most beautiful cars of all time. It's also one of the most famous ever since it starred in the 1964 movie Goldfinger, driven by 007 himself. One of the cars used during the filming even sold at an auction for more than $8 million last summer.  
The British automaker, which built fewer than 900 units from 1963 to 1965, has just relaunched production of the DB5 at the renowned Newport Pagnell factory. Twenty-five cars are planned.
It's not Aston Martin's first attempt at recreating a classic, mind you. In 2017, for instance, a limited run of new DB4 GT models began. This time, the company is teaming up with the producers of the James Bond films, EON Productions, because it wanted to incorporate a broad suite of working gadgets first seen in Goldfinger.
The list includes a rear smoke screen delivery system, a rear simulated oil slick delivery system, revolving number plates, simulated twin front machine guns, a bulletproof rear shield, battering rams front and rear along with a simulated tire slasher.
Inside, there's a simulated radar screen tracker map, a phone in the driver's door, a gear knob actuator button, armrest and centre console-mounted switchgear and a storage tray to hide weapons under the seat.
Of course, the gadget-filled Aston Martin DB5 Goldfinger is not street-legal, but for filthy rich car collectors, it doesn't matter.
The meticulous construction process takes around 4,500 hours per car. At least the build team can leverage modern-day tools and manufacturing techniques that weren't available 55 years ago.
Naturally, all 25 aluminum-bodied cars will be painted in Silver Birch just like in the movie. Under the hood, the naturally aspirated 4.0-litre inline six-cylinder engine puts out 290 horsepower via a five-speed ZF manual transmission and mechanical limited-slip rear differential.
Each Aston Martin DB5 Goldfinger is priced at £2.75 million, equal to about $4.67 million. The first deliveries are due in the second half of 2020.