This Ferrari Enzo Set a Record for an Online Car Auction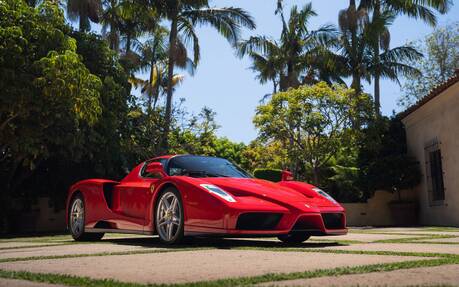 An anonymous but wealthy car collector recently spent $2.64 million USD—the equivalent of about $3.54 million CAD—to purchase a 2003 Ferrari Enzo without even seeing it in person.
This amount is not really a surprise since the car was estimated at $2.6-2.9 million USD, but it happens to be a record for the most expensive automobile ever sold at an online-only auction.
The sale took place as part of the "Driving into Summer" event held by RM Sotheby's.
The Ferrari Enzo had a production run of just 400 units and the one you see here has barely logged more than 2,000 kilometres. It's virtually in the same condition as when it left the factory some 17 years ago. Just look at the pictures.
By the way, the car's MSRP at the time was $643,300 USD and it was sold by a Ferrari dealer in San Francisco.
The naturally aspirated 6.0-litre V12 engine mounted behind the cockpit produces 651 horsepower and 485 pound-feet of torque, shooting the Enzo from 0-100 km/h in a little over three seconds and reaching a claimed top speed of 350 km/h (it was proven to be even faster than that).
During the same auction, a 1985 Ferrari 288 GTO fetched $2.31 million USD (approx. $3.1 million CAD), proof that the appeal of Maranello's finest classics is not fading.
Don't miss the photo gallery above!