Dodge and Kia First, Tesla Last in J.D. Power's 2020 Initial Quality Study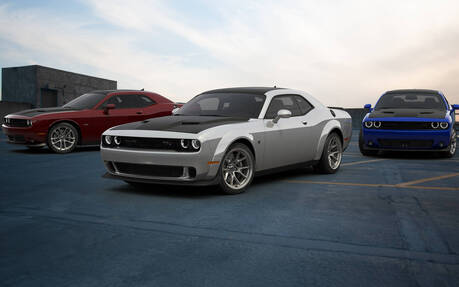 For the first time ever, a domestic brand ranks atop J.D. Power's Initial Quality Study. Dodge is a surprise No. 1 in a tie with Kia, which continues to dominate the industry.
The ranking is determined by the number of problems per 100 vehicles based on the responses from 87,282 purchasers and lessees of new 2020 model-year vehicles who were surveyed after 90 days of ownership. The study, redesigned this year, measures components that fail and features that are difficult to use, hard to understand or don't work the way owners want.
Infotainment systems are the most problematic area with almost a quarter of all problems cited by new-vehicle owners. Top complaints include built-in voice recognition; Android Auto/Apple CarPlay connectivity; touchscreens; built-in navigation systems; and Bluetooth connectivity.
Busting an enduring myth about American vehicles, most domestic brands perform better than the overall industry average including Dodge (136 problems per 100 vehicles), Chevrolet (141), Ram (141), Buick (150), GMC (151), Jeep (155) and Cadillac. In fact, this is the best-ever performance by the Detroit automakers collectively in the history of the study.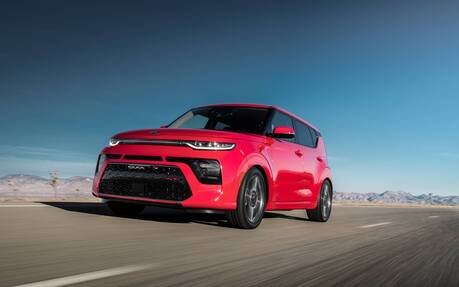 Koreans remain a benchmark for quality, mind you. Kia (136) is the highest-ranked mass market brand for the sixth consecutive year, while Genesis (142) tops all premium brands for the fourth consecutive year.
On the other hand, Japanese automakers are struggling. Mitsubishi (148), Lexus (159) and Nissan (161) are the only brands from the land of the rising sun to rank above the industry average.
This is also the first time that Tesla appears in the ranking. Even though Elon Musk's company didn't allow J.D. Power to survey its owners in 15 U.S. states, the firm was able to collect a large enough sample of surveys from owners to calculate a score. With 250 problems per 100 vehicles, Tesla is dead last in the industry.
Here's a graphic that shows how all the various car brands rank in the 2020 J.D. Power Initial Quality Study: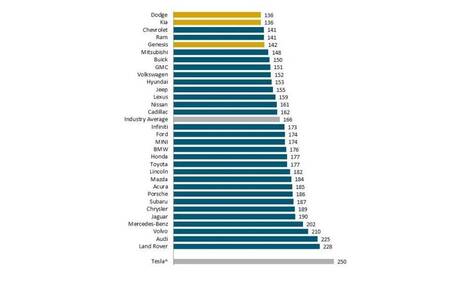 As for vehicle categories, below are the leading models for quality this year: