Redesigned Kia Sedona No Longer Wants to be Called a Minivan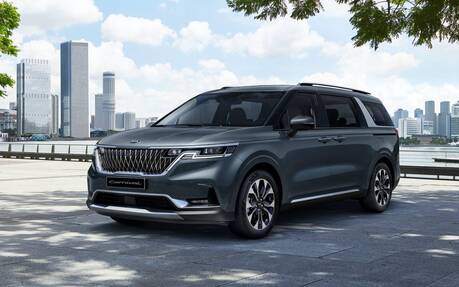 Kia recently unveiled pictures of the new Sedona a.k.a Carnival in its domestic market of South Korea.
At first glance, it appears the company wants to focus on styling to attract more customers. As a matter of fact, rather than calling it a minivan, Kia prefers to talk about a "Grand Utility Vehicle."
From certain angles, this redesigned Sedona does have a little something that reminds us of the Ford Explorer and Chevrolet Traverse. In other words, it looks less fat and more muscular. The faux skid plates on the bumpers accentuate the SUV image.
Of course, the biggest change is at the front. Kia's signature "Tiger Nose" grille takes on a bold new look here—not just because of its size and shape, but also because of the diamond-pattern chrome motif. It's flanked by uniquely styled LED daytime running lights and split headlights. The chrome strip right above them creates a clear separation with the hood.
Over to the sides, there are newly styled wheels with an eye-catching look, as well as a chrome or aluminium finish on the C-pillars. The back end is equally sharp and boxy with full-width LED taillights as the focal point.
Unfortunately, that's all we can tell you at this point. No technical details are available. Will the Sedona retain its 3.3-litre V6 producing 276 horsepower or adopt the Telluride's 3.8-litre V6 rated at 291 horsepower? Or will it go hybrid, too? It definitely needs to strike back at the Chrysler Pacifica and Toyota Sienna, which are both extensively revised for 2021 and equipped with a hybrid powertrain (the former optionally, the latter as standard).
Sales in South Korea are scheduled to begin near the end of summer. North America will follow in mid-2021 (for the 2022 model year). We'll keep you updated when we get more information.