Electric BMW iX3 Unveiled in China, Not for Canada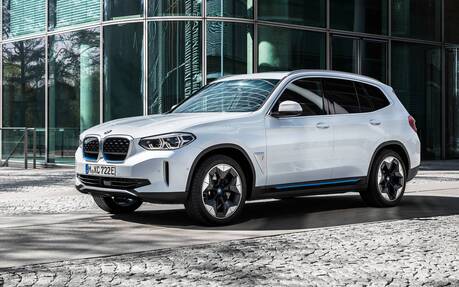 The all-new BMW iX3, a fully electric variant of the X3 compact SUV that initially appeared as a concept at the 2018 Beijing Auto Show, finally made its global debut in production form this week.
However, as we learned in early spring, this Chinese-built vehicle is not part of BMW's plans for North America.
Why? The German automaker prefers to introduce us to its fifth-generation eDrive powertrain technology with the future i4 sedan and iNEXT crossover—two completely unique models that will better meet the needs of drivers out here, apparently.
That's a bit curious as compact SUVs are very popular. In fact, the X3 is BMW's best-selling product. The familiar looks of the new iX3 would make it easy to embrace by Canadian and American customers. Other than a few blue accents and a charging port on the rear fender, it's nearly identical to the gasoline model we already know.  
Incorporating the electric motor, power electronics and transmission in a single central housing, the BMW iX3 uses an 80-kWh battery that can provide up to 460 kilometres of range according to the WLTP test cycle. It would be more like 400—maybe a tad less—in North America, but most drivers would be satisfied.
In terms of output, the iX3 delivers 286 horsepower along with 295 pound-feet of torque, sprinting from 0-100 km/h in 6.8 seconds. Again, these are pretty respectable numbers. As for charging, BMW claims 34 minutes are necessary to bring the battery back to 80 percent via a 150-kW charging station.
The biggest problem, of course, is the absence of all-wheel drive. With just one motor, the BMW iX3 sends power to the rear wheels only. This won't be the case with the i4 and iNEXT, which will benefit from the automaker's xDrive system, making them more apt to take on the rigors of the Canadian climate.