2021 Ford Bronco vs. 2020 Jeep Wrangler: The Numbers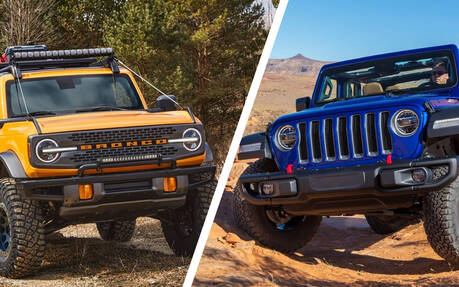 A new war has begun in the SUV world. With the all-new 2021 Bronco, Ford is directly taking on the Jeep Wrangler. Both are hardcore vehicles with a focus on off-road driving. Both are available in two- and four-door configurations. And both have removable doors and roof panels allowing occupants to really get a feel for the action around them.
We've looked at their respective specifications and here's what you need to know…
Engines: Advantage Jeep
Under the hood of the 2021 Ford Bronco is a selection of two familiar EcoBoost engines, starting with a 2.3-litre four-cylinder rated at 270 horsepower and 310 pound-feet of torque. The alternative is a 2.7-litre V6, which has been tuned to deliver 310 horsepower and as much as 400 pound-feet of torque. 
The Jeep Wrangler also has a turbocharged four-cylinder producing 270 horsepower. Its naturally aspirated 3.6-litre V6 engine is a bit less powerful than Ford's EcoBoost with 285 horsepower and 260 pound-feet of torque. Both can be had with eTorque mild hybrid technology supplying 90 extra torques at takeoff.
Remember, Jeep recently added a Wrangler EcoDiesel that delivers 260 horsepower and 442 pound-feet of torque. And within a year a Wrangler Rubicon 392 with a 450-horsepower 6.4-litre HEMI V8 will join the lineup. Will Ford strike back with a Bronco Raptor?
Transmissions: Advantage Ford
Ford Bronco customers will be pleased with a choice of a new seven-speed manual transmission (including a crawler gear) and a sophisticated 10-speed automatic transmission.
The Jeep Wrangler has manual and automatic gearboxes, too, but they have six and eight gears, respectively.
4x4 Systems: Tie
It's hard to say which SUV has the edge here since we have yet to put the Ford Bronco to the test. On paper, though, you can't go wrong with either.
The Bronco's base 4x4 system has a two-speed transfer case with electronic control, while the more advanced system has a two-speed transfer case with electromechanical control and automatic shift-on-the-fly capability. A final drive ratio of 4.7:1 is available. Furthermore, engineers have incorporated a G.O.A.T. (Goes Over Any Terrain) selector with up to seven drive modes.
Over at Jeep, the Wrangler has long made its mark with three highly competent 4x4 systems. Command-Trac comes standard on Sport and Sahara models; full-time Selec-Trac is optional on the Wrangler Unlimited Sahara; and the outstanding part-time Rock-Trac system blesses the Rubicon model with a more robust transfer case, electronic locking differentials and a disconnecting front sway bar, just like the one available on the Bronco. A final drive ratio of 4.1:1 is available.
Ground Clearance and Off-road Angles: Advantage Ford
The base Ford Bronco's ground clearance is just 8.3 inches, but it increases to a whopping 11.6 inches with the optional 35-inch tires. Approach, breakover and departure angles can go as high as 43.2 degrees, 29 degrees and 37.2 degrees, respectively.
The Jeep Wrangler offers 9.7-10.8 inches of ground clearance depending on the model, while the biggest tires available measure 33 inches. Its maximum approach, breakover and departure angles are 44 degrees, 27.8 degrees and 37 degrees, respectively.
Towing and Payload: Tie
The Ford Bronco's maximum towing capacity is 3,500 pounds, similar to the Wrangler Unlimited. As for payload capacity, the former is rated at 1,370 pounds and the latter at 1,351 pounds, so it's too close to call.
Fuel Economy: N/A
Fuel ratings for the 2021 Ford Bronco have not been released yet, so we can't compare. It will likely benefit from having a few extra gears, though. And don't forget: a Bronco Hybrid will join the lineup at some point.
For the record, the 2020 Jeep Wrangler's combined city-highway numbers range from 9.5 L/100 km (four-door Unlimited EcoDiesel) to 12.2 L/100 km (Unlimited with gasoline V6 and manual gearbox).
Safety: Tie
These two SUVs obviously feature all the stability and traction control systems we've come to expect. The Bronco also adds Ford's Co-Pilot360 suite of driver assistance systems.
Similarly, the Jeep Wrangler can be equipped with advanced features like adaptive cruise control, forward collision alert with emergency braking, blind spot monitoring, rear cross traffic alert and parking sensors.
Pricing: Advantage Jeep
The entry-level 2021 Ford Bronco starts at $40,499, while the most expensive of the six trim levels on the menu (Wildtrak) costs $58,494.
The Jeep Wrangler is cheaper, retailing from $35,695 and topping at $57,935 (Rubicon Recon). Also, FCA typically offers generous rebates to buyers—nearly $5,000 in some cases.
By the way, both automakers have a limited vehicle warranty of 3 years/60,000 km and a powertrain warranty of 5 years/100,000 km.
Watch the 2021 Ford Bronco in action