Toyota Supra Could Finally Get a Manual Gearbox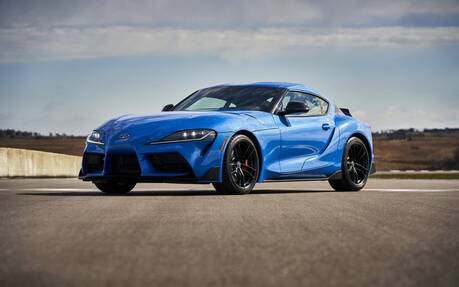 What's missing on the Toyota GR Supra? Of course the answer is a manual gearbox. The car's chief engineer has repeatedly said that Toyota has no intention to offer one and wants to stick with the eight-speed automatic.
Well, it looks like the company may have changed its mind.
Earlier this year, Toyota admitted having tested manual versions of the GR Supra, but didn't provide any details. Now, Japanese publication Mag X reports that a manual transmission is indeed "under preparation" and could be added to the lineup in the near future.
Obviously, nothing has been confirmed yet and the source where this information originates from isn't clear, but the odds seem to get better with each passing day.
Toyota appears to have a strategy to constantly update the GR Supra. Following its launch for 2020, the manufacturer introduced a 2021 model with a more powerful six-cylinder engine (382 hp), a revised chassis and more importantly a new entry-level four-cylinder engine (255 hp) bringing the base price down.
There is also a special edition called A91, not to mention the GR Supra GT4 race car that will be sold to customer teams beginning in August. Exclusively designed for the track and built by Toyota Motorsport GmbH, the latter uses a 430-horsepower version of the turbocharged 3.0-litre mill.
A manual gearbox would be the next logical step, don't you think? A couple of tuners, including EAG at the 2019 SEMA Show, have shown us how a manual GR Supra is possible. If the rumour turns out to be true, Toyota could be making this one key enhancement sooner than we think.
Other media outlets even report that the current generation will go out with a bang in the form of a high-performance GRMN edition featuring an engine derived from the upcoming BMW M3, which could mean over 500 hp under the hood.
In short, the GR Supra has more surprises in store for us.