Watch: Rivian R1T Shows Off Unique Off-road Potential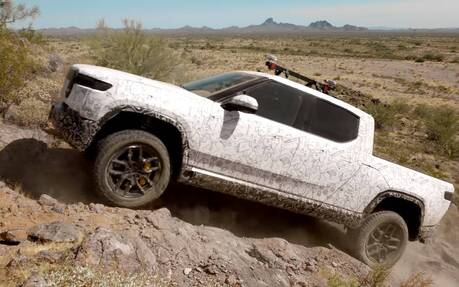 While its first deliveries have just been pushed back to June 2021, the Rivian R1T is still likely to become the first long-range electric pickup on the market, arriving before the Tesla Cybertruck, GMC Hummer EV, electric Ford F-150 and many others.
Just like its future rivals, the R1T boasts some pretty impressive specs and features: four electric motors, up to 750 horsepower and 829 pound-feet of torque, 0-60 mph (96 km/h) in just three seconds, payload of 1,760 pounds, max towing capacity of 11,000 pounds, plus 105-, 135- and 180-kWh batteries, the latter offering around 640 kilometres of range.
Is it a truck that people will really want to buy, though? Can it be as capable and versatile as Rivian advertises? This new video showing on- and off-road tests in Arizona with a development prototype is a convincing preview:
It's quite remarkable to see how the Rivian R1T feels at ease in such diversified conditions, from twisty paved roads to rocky climbs and all the dirt, mud and sand that come in between. On one hand, it charges forward and attacks corners like a nimble sports coupe with a knack for drifting. On the other hand, it appears to overcome rough and slippery terrain like a proper off-roader.
The immense power and torque from the electric drivetrain deserve credit, just like the adaptive air suspension and the low centre of gravity resulting from the placement of the battery pack under the vehicle. Let's not forget the Tank Turn mode that makes it possible to perform a 360-degree turn by spinning in place like a tracked vehicle (click on the link for a demonstration).
"It has such a broad spectrum of performance," says a Rivian engineer involved in the truck's development. "That's why we have four independent motors so that we can optimize grip off-road but then also optimize the handling balance on-road."
He says this pickup was designed and engineered by people who live the outdoor, adventurous lifestyle. It's mainly those customers Rivian has in mind, too.
The Rivian R1T will be sold from $69,000 in the U.S. Pricing and availability in Canada remain to be confirmed.