2021 Kia Stinger Limited Edition Adds a Flashy New Colour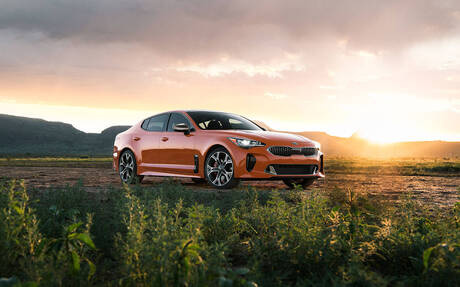 Despite being named the 2019 Canadian Car of the Year by AJAC, the fate of the Kia Stinger beyond the current generation remains uncertain. Still, there is a new addition for the upcoming 2021 model year.
More specifically, the company is introducing a limited edition that stands out with a bright orange exterior, similar to the Stinger GTS that was unveiled at last year's New York Auto Show but never sold north of the border.
Based on the top-line GT Limited model, this new Kia Stinger Limited Edition also has floor mats with orange stitching to match the body. There are no other cosmetic or technical upgrades, however.
Under the hood is the same twin-turbocharged 3.3-litre V6 engine that produces 365 horsepower and 376 pound-feet of torque. An eight-speed Sportmatic automatic transmission with paddle shifters and all-wheel drive system featuring a limited-slip differential handle power delivery. Behind the 19-inch machined-finish alloy wheels and Michelin performance tires are powerful Brembo brakes.
Other goodies include an electronically controlled suspension, 360-degree camera system, Nappa leather seats, eight-inch infotainment display with navigation, head-up-display and 15-speaker Harman Kardon sound system. Full LED lights add flair to the look.
"The neon orange colour really makes a head-turning statement to a model that already stands out for its looks on the road," says Michael Kopke, Director of Marketing at Kia Canada. "And with an exclusive number of units being produced for the Canadian market, this limited-edition Kia Stinger is sure to be in high demand."
Pricing for the 2021 Kia Stinger Limited Edition is set at $51,995, which is $1,500 over the GT Limited (a fairly big premium just for that body colour and matching floor mats). You can order one at Kia dealers with deliveries slated to begin early next spring.
Incidentally, the base GT-Line model featuring a 255-horsepower turbo-four engine is no more. Kia quietly dropped it from the lineup several months ago.