2020 Porsche 911 Carrera: Base 911 is Still a Good 911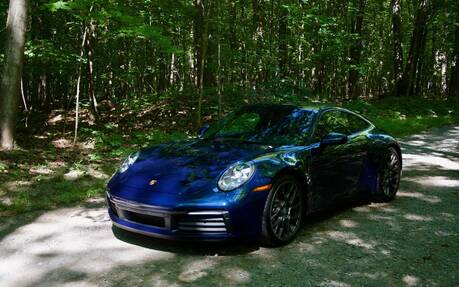 The current-generation Porsche 911 Carrera (codename 992) was introduced last year as a 2020 model. First, we got the 443-horsepower Carrera S and Carrera 4S with a twin-turbocharged 3.0-litre flat-six engine. Now, here is the base 911 Carrera, which starts at $111,000 in Canada.
Many automakers opt to start things off with the regular variants of their new cars before adding higher-performing models. Since Porsche did the opposite, we wondered: is the entry-level 911 still an interesting choice? Should customers simply ignore it and go with an S instead? We spent a full week with the car to find out.
Over $30,000 Worth of Options
Our Gentian Blue Metallic tester wasn't exactly the cheapest 911 you can buy, mind you. It came with over $30,000 worth of options, pushing the price up to $142,810.
Some of these, like the 20-inch front and 21-inch rear RS Spyder wheels ($4,260), positively enhance both styling and driving dynamics. Others such as the Comfort Access package ($630), Lane Change Assist ($1,200) or illuminated, brushed aluminum door sill plates ($1,030) are admittedly unnecessary on a car that's supposed to be more affordable. But that's the way Porsche likes it.
64 Fewer Horses
Compared to the 911 Carrera S, the base 911 is amputated by 64 horsepower and 59 pound-feet of torque. Displacement is the same, but the turbos are smaller and tuning is different.
In terms of acceleration, this 911 is half a second slower than the S from 0-100 km/h. But despite not being as explosive at full throttle, it still delivers quick sprints and passing manoeuvres.
In relaxed driving, the PDK dual-clutch transmission performs lightning-quick shifts for better fuel economy. Press the Sport button, though, and it will hold gears longer in order to fully tap into the engine's power and torque reserve. Alternatively, you can use the paddle shifters.
Overall, performance meets expectations. The base 911 actually proves more potent than the previous-gen Carrera S, so that alone should put any fears to rest.
Exceptionally Skilled as Always
With the oversized wheels (optional), the car makes a pretty convincing statement as far as driving dynamics go. When attacking a highway off-ramp faster than the recommended speed, just dial the suspension to a firmer setting and the razor-sharp electromechanical steering will allow you to align the 911 with the perfect trajectory.  
The RWD configuration makes certain manoeuvres a bit more complicated—U-turns, for instance—but the reactions of the chassis feel more natural. At higher velocities, the playful 911 Carrera is a willing and spirited partner, yet it becomes extremely laid-back and compliant in normal driving with the suspension set at its softest.
What about the cockpit? The digital instrument cluster and centre touchscreen can be configured as you please, while the new infotainment system is very intuitive to use. Wireless Apple CarPlay integration is now part of the mix.
Best Buy in the Segment
The 2020 Porsche 911 lineup has been carefully planned to meet the specific needs of customers. The base model remains a true 911, although it feels a bit more like a grand touring coupe than an actual sports car.
In our opinion, considering the tough weather conditions and not-so-pristine roads in Canada, the more powerful 911 Carrera 4S with all-wheel drive is a safer, more adequate pick. Also, the price is similar to that of a loaded 911 Carrera… provided you don't check too many boxes on the options list.
That being said, you can do whatever you want with your money. Whichever 911 you choose, it will be a good buy. Build quality, reliability and residual value remain at the top of the segment. If there is one sports car you can't go wrong with, it's this one.
Test drive report
Test model

2020 Porsche 911

Trim level
Carrera
Price range
$111,000 – $150,000
Price as tested
142 810 $
Warranty (basic)
4 years/80,000 km
Warranty (powertrain)
4 years/80,000 km
Fuel economy (city/highway/observed)
N/A / N/A / 12,5 L/100km
Options
N/A
Competitive models
2020 Chevrolet Corvette, 2020 Aston Martin Vantage, 2020 Mercedes-Benz AMG GT, 2020 Audi R8, 2020 Jaguar F-TYPE
Strong points

Timeless looks
High levels of performance
Excellent handling
Sharp, user-friendly infotainment system

Weak points

Certainly not cheap
Many expensive options
Useless rear seats

Editor's rating
Fuel economy
We recorded an average of 12.5 L/100 km despite repeated efforts to push the car.
Comfort
Comfort is great by sports car standards.
Performance
Performance lives up to the 911 name.
Infotainment
The infotainment system is sharp and user-friendly. Wireless Apple CarPlay integration is now part of the mix.
Driving
Driving dynamics are superb, especially with the available RS Spyder wheels.
Overall
A true 911, the base model feels a bit more like a GT than a sports car.