Mazda MX-30 to Offer Mild Hybrid Option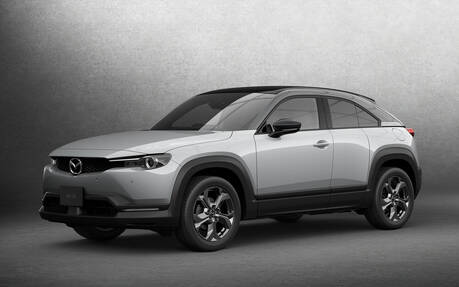 We're still waiting to find out if the all-new Mazda MX-30, the brand's first series-produced electric vehicle, will be sold in Canada. Honestly, the chances are rather slim.
However, Mazda has just announced another variant of the MX-30 featuring a mild hybrid system—the same that's currently available with Mazda3 and CX-30 models in select markets around the globe. Not ours yet, of course.
Basically, the 2.0-litre four-cylinder gasoline engine is supplemented with a 48V battery that recovers kinetic energy from braking and deceleration. Said battery uses this electricity to power the vehicle's electronics and deliver temporary boosts of driving power.
The fully electric MX-30, meanwhile, relies on an e-SKYACTIV powertrain with a 35.5-kWh battery that provides a range of 200 kilometres (a rotary engine/generator could eventually be added as a range extender). That's much shorter than the distance one could expect to travel with the mild hybrid variant. Furthermore, it's not available with all-wheel drive yet.
Other than that, the two Mazda MX-30 models are nearly identical. Only a badge on the hatch sets them apart. Well, not really, there's another big difference: pricing. In Germany, for instance, the electric MX-30 starts at €33,490 (equal to $52,700). You can bet the hybrid option will cost several thousand less.
What do you think? Which MX-30 configuration do you find the most interesting? Feel free to let us know in the comments below.