Sylvester Stallone Has a Custom Cadillac Escalade ESV for Sale, Too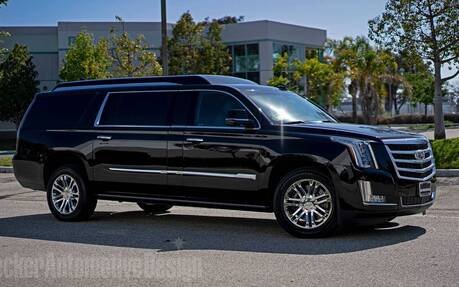 Rocky actor Sylvester Stallone is selling a stretched and custom-appointed 2019 Cadillac Escalade ESV he commissioned from Becker Automotive Design. While he paid a whopping $409,000 USD for it two years ago, he's now willing to let it go at $350,000.
The vehicle is nearly identical to NFL superstar Tom Brady's own Cadillac Escalade ESV, which he put up for sale this spring at a price of $300,000. In fact, both were created by the same California-based company.
Sly had his Escalade ESV extended by 50 centimetres and the interior draped with rich leather and wood veneer. Naturally, there's a big 43-inch TV screen in there. It actually serves as a partition between the front seats and rear quarters.
Three middle seats with folding cushions face the two massive, lounge-style rear seats. Those lucky enough to sit in the latter have crystal glassware, folding tables, electric window curtains and 12-inch displays at their disposal. A theatre-like sound system is part of the cabin, too.
Strangely, the lavish SUV has only been used for about 1,600 kilometres, as if the 74-year-old-actor had made an impulse purchase and later regretted his decision. In reality, Stallone was personally involved in designing the luxurious interior, wishing for on-board electronics and ride quality that were second to none.
"I ordered my Becker ESV for a specific purpose, however, my requirement for it has recently changed and I no longer have a need for this beautiful vehicle," he says on the ad page.
As for the next-generation 2021 Cadillac Escalade ESV introduced by GM in February, it will land in Canadian showrooms this fall with a base price of $93,298. The choice is yours.