2021 Chevrolet Trailblazer: Lucky Number Seven?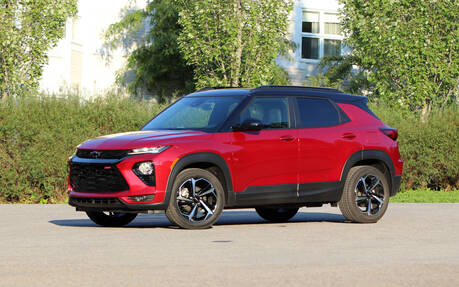 Chevrolet recently added a seventh SUV to its lineup. The all-new 2021 Trailblazer slots between the Trax, which sticks around for some reason, and the Equinox—kind of like what Mazda is doing with the CX-3 and CX-30.
The Trailblazer is more technologically advanced, of course, an essential attribute as it goes head-to-head with the two Mazdas plus the hot-selling Honda HR-V, Hyundai Kona, Kia Seltos and Subaru Crosstrek.
At the same time, the company's goal with the Trailblazer is to win over customers who no longer have the Chevrolet Cruze as an option in the compact segment. The latter was dropped after 2019 along with a few other GM cars, leaving many Canadian dealers desperate for a replacement.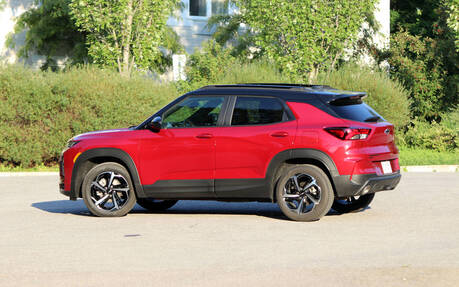 Friendly Look
With a front end inspired by the larger Blazer and the Camaro muscle car, plus a host of cosmetic details such as a two-tone exterior and contrasting body cladding, the 2021 Chevrolet Trailblazer admittedly looks sharp. The RS model is a tad sportier, while the Activ model focuses on adventure.
The interior is just as lovely with an ergonomic dashboard and user-friendly touchscreen offering wireless Apple CarPlay/Android Auto compatibility, the latter a pleasant surprise. Convenient features like wireless smartphone charging and multiple storage compartments add value to the equation.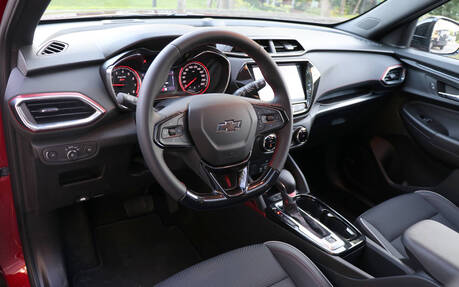 The front buckets are tight yet very comfortable, but the same can't be said about the rear seats, which seriously lack padding and support. On a positive note for parents, installing a child seat is, well, child's play. Incidentally, the Chevrolet Trailblazer is much more suitable for small families than the Trax.
Trunk capacity is more than decent, and you can haul even more stuff by lowering the 60/40-split seatbacks. Chevrolet designers have also incorporated a fold-flat front passenger's seat so it's possible to fit long items that stretch from the liftgate all the way to the glove box, like a ladder or 2x4s.
What's more, a motion-activated power liftgate is available. It comes with an illuminated Chevy logo on the ground so you know exactly where to place your foot. Just be patient, because the system takes a certain time to respond.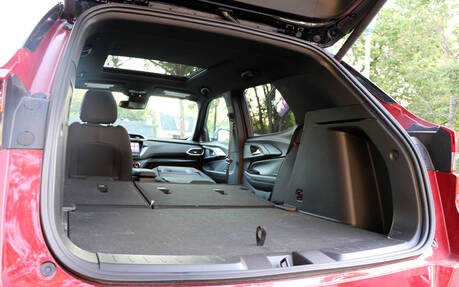 Just Three Cylinders?
Similar to the equally new Buick Encore GX, the 2021 Chevrolet Trailblazer is motivated by a turbocharged three-cylinder engine. The base 1.2-litre unit generates 137 horsepower via a continuously variable transmission, but we weren't allowed to test this combo. Is the company afraid of what auto journalists might say about it?
The alternative is a 1.3-litre mill rated at 155 horsepower and, more importantly 174 pound-feet of torque from 1,600 rpm. AWD is added, too. In order to get it, though, you must spend at least $30,000 including freight and delivery. Performance is much more convincing and satisfying, plus fuel economy is nearly as good as the other option, available only with FWD.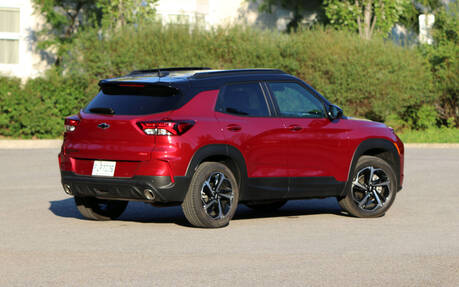 Here's a question: why isn't the bigger engine offered as standard? With 155 hp, it's on par with pretty much every competitor in their base trim. Hyundai, Mazda and Subaru even have more powerful options (around 180 hp), some of which cost less than the Trailblazer.
Clearly, by going with a pair of three-cylinder engines, Chevrolet was hoping to become a fuel economy leader, but as it turns out, that's not the case. Our tester achieved 8.6 L/100 km in a mix of city and highway driving, which is worse than the segment average.
Furthermore, the drive is not as pleasant as it could have been with a conventional four-cylinder engine. Sure, there's generous low-end torque thanks to the turbocharger, but it doesn't take long before you hear the vehicle complain excessively, which forces you to ease off the pedal a bit. Fortunately, the 1.3-litre triple doesn't produce nearly as many vibrations as other similar engines (like the Ford EcoSport's). It can thank the nine-speed automatic transmission for that.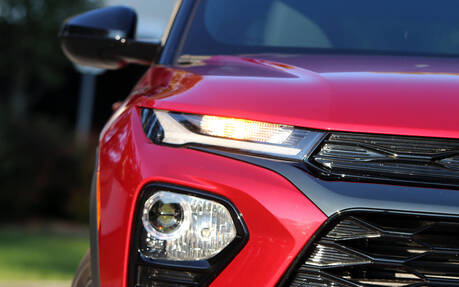 Now, if you're heavy on the throttle, traveling with several passengers (and some luggage) or towing a personal watercraft, expect to pay a big penalty at the pump. You won't have such a problem with Mazda CX-30 2.5, which burns less fuel in these situations despite having 30 more horsepower on tap.
While not perfect, the Trailblazer is still fairly enjoyable on the road thanks to its surprisingly smooth ride and impressive manoeuvrability. Other complaints? The AWD system doesn't work so great (you need to engage it manually), torque steer is significant under acceleration and steering feels sharp albeit overly assisted.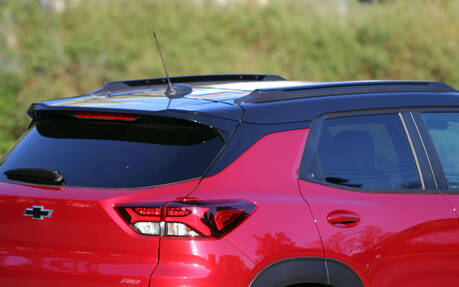 Sticker Shock
The 2021 Chevrolet Trailblazer RS we tested had a price of $37,498, including freight and delivery. That's $3,000 more than what you'll fork over for a Kia Seltos SX, $2,000 above a Mazda CX-30 GT and $1,000 more than a Subaru Crosstrek Limited. These three rivals are all more powerful and refined, making them better purchases overall.
What you need to remember is that a 155-hp Trailblazer with AWD starts at about $30,000. The RS and Activ models are more expensive, and then there's the long list of options. We like Chevy's new SUV, just not at that price.
Test drive report
Test model

2021 Chevrolet Trailblazer

Trim level
RS TI
Price range
$23,798 – $30,398
Price as tested
35 578 $
Warranty (basic)
3 years/60,000 km
Warranty (powertrain)
5 years/100,000 km
Fuel economy (city/highway/observed)
9,2 / 7,9 / 8,7 L/100km
Options
Sun & Liftgate Package ($1,995), Convenience Package ($695), Scarlet Red paint ($495), Technology Package ($1,995)
Competitive models
2020 Ford EcoSport, 2021 Hyundai Kona, 2021 Kia Seltos, 2021 Mazda CX-30, 2020 Nissan Qashqai, 2021 Subaru Crosstrek, 2020 Honda HR-V
Strong points

Friendly look
Versatile interior
Surprisingly smooth ride and agile handling

Weak points

Disappointing engines and fuel economy
Significant torque steer
High price

Editor's rating
Fuel economy
Trailblazer is reasonably efficient, but we expected better from the small engines.
Comfort
The ride is surprisingly comfortable for such a small vehicle.
Performance
The 1.3-litre turbo offers generous torque, but that's about it.
Infotainment
Chevy's system is a model for others to follow. Wireless Apple CarPlay and Android Auto comes standard, too.
Driving
Driving around town is pleasant thanks to agile, responsive handling, but torque steer is annoying.
Overall
This is a decent product, but clearly you can find better options in the segment.