C8 Corvette Unbelievably Turned Into 705-hp Ares S Project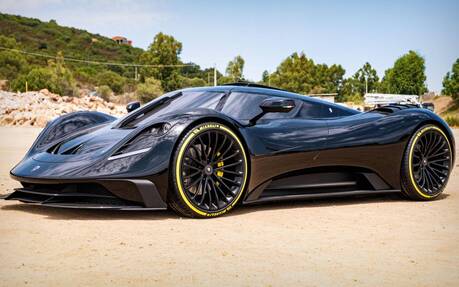 Are you familiar with the works of Ares? The Italian design studio has several offices around the world and it's headed by former Lotus CEO Dany Bahar.
Their Panther ProgettoUno, created as a tribute to the De Tomaso Pantera, is a sight to behold, but today we'd like to talk to you about their latest supercar called Ares S Project.
Incredibly, the sleek beast pictured here is based on a 2020 Chevrolet Corvette Stingray. The RWD chassis and eight-speed dual-clutch transmission are the same, but Ares has significantly modified the 6.2-litre LT2 V8 in order to crank output up to 705 horsepower (+210) at 6,450 rpm and 715 pound-feet of torque (+245) at 5,150 rpm. Also, the redline is now at 9,000 rpm (+2,500).
In an interview with Top Gear, Bahar wouldn't detail the upgrades that have been made, but he said "it's all mechanical modifications, you can't do this through software." There's not even forced induction as the engine remains naturally aspirated. Apparently, the sound replicates old Formula 1 V10 engines and 0-100 km/h acceleration is a matter of 2.6 seconds.
And then there's the radically transformed body. Seriously, look at it. Gone are the angular lines of the eighth-generation American icon; they've been replaced with sexy curves in typical Euro fashion. The nose and cockpit are extremely low, an impression emphasized by the bulging fenders (wheel size is not specified).
Up top, a long scoop on the roof sends fresh air into the mid-mounted engine. While it may lack a giant spoiler, the rear end is arguably more spectacular than the front. The absence of a rear window suggests that a camera is linked to a digital rear-view mirror inside.
Ares plans to build 24 copies of the S Project over a two-year span and sell them at—wait for it—€500,000 apiece, or $845,000 CAD at the current exchange rate. Still think the new Corvette is expensive?