2020 Infiniti Q50: Here's the Problem With This Car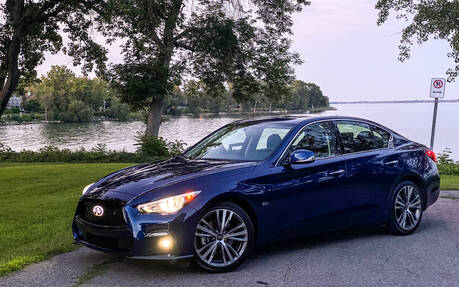 Some cars are so awesome they receive unanimous approval. Others crush the competition with unbeatable specs. And then there are polarizing cars that we spend an excessive amount of time arguing about.
One such model is the Infiniti Q50. More specifically, the 2020 Infiniti Q50 Signature Edition AWD we recently tested.
At $47,445 plus freight and delivery, this compact luxury sedan is relatively well equipped and motivated by a strong twin-turbo V6 engine that produces 300 horsepower along with 295 pound-feet of torque.
Many people will tell you the Q50 is a good car, yet it has a hard time finding buyers in a segment that also includes the BMW 3 Series, Audi A4, Mercedes-Benz C-Class, Lexus IS, Cadillac CT4, Genesis G70 and Acura TLX. By the way, it's the same story with the two-door Infiniti Q60.
So, what's the problem, here?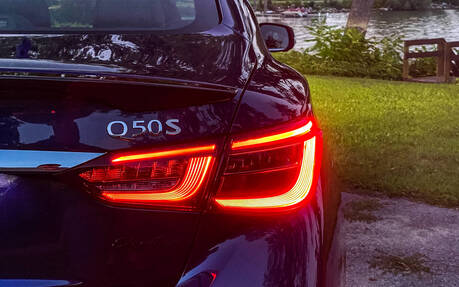 Is the Brand to Blame?
Some claim that Infiniti products are bad sellers for the simple fact that they're, well, Infinitis. Luxury customers seem to care a lot about the logo on the grille and the aura around the car, perhaps more than the car itself or the driving experience.
Want another example? Take Genesis. Hyundai's luxury brand offers exceptional vehicles, and we have nothing against those who buy a Genesis G70 over a C-Class, but sales are marginal at best. The company has still a long way to go to convince fans of German luxury cars.  
Unlike Genesis, however, Infiniti has been on the market long enough to establish a presence and make a name for itself. Celebrated models like the G35 and G37 have shown in the past that Infiniti can be more than a fancy version of Nissan. Having said that, it doesn't have the same brand power yet as the German competitors.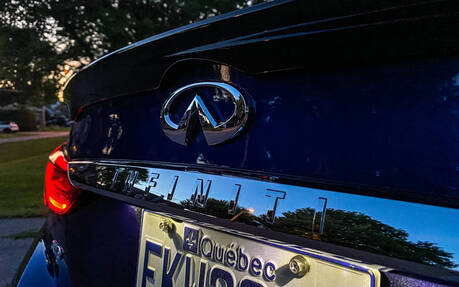 Could it be the Car?
While compact luxury cars have faded in recent years as a growing number of people turn to SUVs, the Infiniti Q50 is struggling a lot more than its rivals. The sad reality is that this product just doesn't cut it.
Look at the design. The Q50 is unquestionably a stylish sedan (and the Q60 a futuristic coupe) from the outside, but when you open the doors the picture isn't so pretty. Simply put, there's no flair. The cabin features two screens and lots of buttons and controls, but you clearly don't get the impression of sitting in a luxurious car like you do in a BMW, Audi or Lexus.
On the road, it gets worse. The Q50 is a solid car and you can somewhat feel the Nissan GT-R's DNA in the chassis when you push it in corners. However, the steering is a mess. It feels artificial, literally. Instead of being mechanically connected to the front wheels like in a regular car, the system uses drive-by-wire technology where a computer receives steering input and then sends a signal to a different type of rack and pinion to turn the wheels.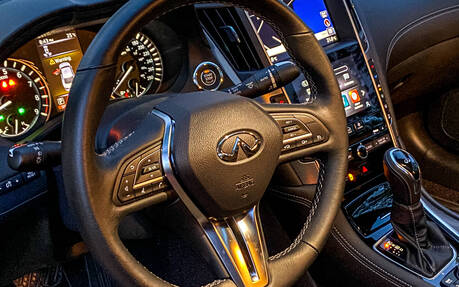 When the company introduced it a few years ago, they claimed it would reduce driver fatigue (maybe) and improve the driving experience (definitely not the case). There's no feedback at all from the steering wheel and the car automatically takes care of the minute changes we normally make while driving.
For enthusiasts, that's more frustrating than anything. You can't feel the car's limits or a real connection with the road. Average Joes won't mind, but then again, average Joes don't buy luxury sport sedans.
The Infiniti G35/G37 kicked many German butts during its time and rightfully gained traction among customers. Its successor pales in comparison and has become a rare sight on Canadian roads.
Test drive report
Test model

2021 Infiniti Q50

Trim level
3.0t Édition Signature
Price range
$43,995 – $61,995
Price as tested
CA$47,245
Warranty (basic)
4 years/100,000 km
Warranty (powertrain)
6 years/110,000 km
Fuel economy (city/highway/observed)
12.5 / 8.7 / N/A L/100km
Options
N/A
Competitive models
2020 Audi A4, 2020 BMW 3 Series, 2021 Lexus IS, 2021 Acura TLX, 2020 Mercedes-Benz C-Class, 2021 Cadillac CT5, 2020 Volvo S60, 2020 Genesis G70
Strong points

Sharp looks
Rigid chassis
Strong twin-turbo V6
Relatively affordable price

Weak points

Complete lack of steering feel
Disappointing interior environment
No performance model
Complex infotainment system

Editor's rating
Fuel economy
The Q50 can be a heavy drinker when you push it.
Comfort
The ride is fairly smooth, but suspension travel is a bit too short.
Performance
The engine is strong and playful.
Infotainment
The system is complex and not very intuitive.
Driving
Driving on the highway is pleasant, but the steering is a mess in corners.
Overall
The Q50 is not a bad product, but it just doesn't cut it in the compact luxury segment.