EV Chargers Coming to Couche-Tard, Circle K, Mac's Stores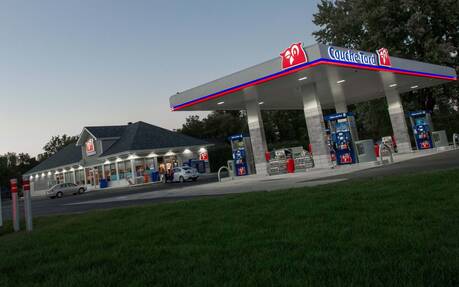 Alimentation Couche-Tard, which recently cracked Forbes magazine's list of the top 200 companies in the world, plans to install electric vehicle chargers at its gas stations in North America.
The Laval, Quebec-based convenience store powerhouse already has some experience in that department, having launched a pilot in Norway a few years ago. Over there, 80 Circle K stores combine to offer 450 chargers, as pictured below. They will even sell you home charging units.
In an interview with Bloomberg, Couche-Tard CEO Brian Hannasch said the company will follow the Norwegian model and roll out EV chargers first in Quebec (Couche-Tard), then in the rest of Canada (Circle K, Mac's) and on the West Coast of the U.S. (Circle K, Holiday).
In the longer term, EV drivers will be able to purchase at-home chargers through Couche-Tard-owned locations, too.
With global oil demand stagnating and possibly never rising again, gas stations must find new revenue streams. Right now, 71 percent of the money Couche-Tard makes comes from fuel sales.
We don't know just how vast the company's future EV charger network will be (Hannasch talked about "several hundred" potential locations), but this has to rejoice drivers who still have concerns about finding a place to plug in.