2021 Chevrolet Silverado Adds Multi-Flex Tailgate, More Towing Power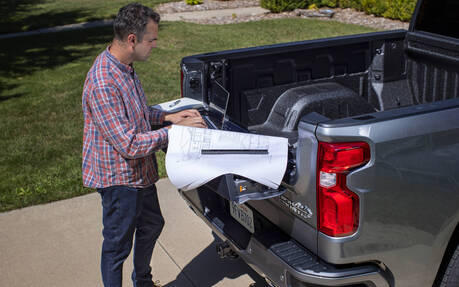 One of the main differences between the next-generation Chevrolet Silverado and its cousin, the GMC Sierra, will be a thing of the past in 2021 as the former adds the option of a Multi-Flex tailgate.
Several other enhancements have been made to Chevy's full-size pickup, so let's do a quick overview…
Multi-Flex Tailgate
Similar to GMC's Multi-Pro, the new Multi-Flex tailgate available on the Silverado is a marvel of versatility and practicality with six different functions. You can drop the entire tailgate or just the upper section, unfold it to create a step to the cargo bed or use the smaller panel as a backstop for your ladders and 2x4s, or otherwise make yourself a work bench that can support loads up to 170 kilos (375 pounds). Two tailgate-mounted buttons facilitate operation. Alternatively, you can use the keyfob.
The Multi-Flex tailgate will be available early next year on all new 2021 Silverado 1500 models.
Improved Towing Capacity
For 2021, Chevrolet has increased conventional towing capacity for two of its most efficient engines, compared to the 2020 model year. The popular Crew Cab Short Box model with the 2.7-litre turbo increases its rating by 2,500 pounds to a max capacity of 9,300 pounds in two-wheel drive configuration. A newly available Regular Cab Long Box model provides the maximum 2.7L tow rating of 9,600 pounds.
With the 3.0-litre Duramax turbo-diesel, nearly every configuration gets an additional 1,900 pounds of trailering capacity for a total of 9,500 pounds.
Chevrolet says that's enough for the vast majority of users, pointing to a MaritzCX study that reveals 96 percent of light-duty pickup owners tow less than 10,000 pounds.
Additional Technologies
Much like the updated Sierra, the 2021 Chevrolet Silverado makes life easier when pulling a trailer. For starters, with the new Trailer Length Indicator (activated at the same time as the turn signal), the centre screen displays a red overlay twice the length of the trailer and shows when other vehicles are present and may interfere with a lane-change manoeuvre.
Also new for 2021, Jack-Knife Alert tracks the position of the trailer in relation to the pickup. If the front of the trailer approaches the rear of the vehicle, an alert is displayed when there may be a potential jack-knife situation, thus preventing damage.
Furthermore, Rear Side View, which provides a split view of the left and right sides of the truck and trailer, is now accessible while driving in reverse, as well. Rear Trailer View has been enhanced to include guidelines that assist when backing a trailer into place and a Trailer-Angle Indicator to show the relationship between the truck and trailer. As for the Cargo Bed View, a new zoom feature and bed hitch guidance can be helpful for aligning and hooking up a gooseneck/fifth-wheel trailer.
What else? You should know that most trim levels feature enhanced content. A first for Chevrolet, Adaptive Ride Control is now available on High Country models with 22-inch wheels to provide enhanced ride comfort. New option packages and body colours are available, too.
The 2021 Chevrolet Silverado 1500 will begin production this month and arrive at dealerships later in the fall. Pricing has yet to be announced.