This is a One-off Ferrari 812 You Can Call Omologata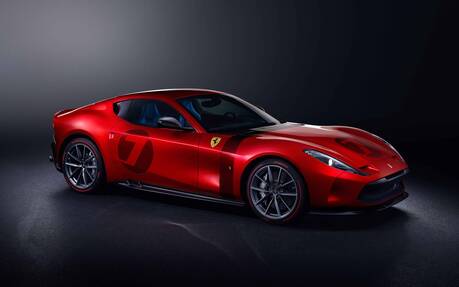 A little over two years ago, a rich fan of Ferrari in Europe made a special request and, in keeping with its tradition of building one-off models, the Italian automaker agreed to make it a reality.
The final result is out. Meet the Ferrari Omologata.
Based on the 812 Superfast, this one-of-a-kind supercar only shares headlights and windshield with the original. Every other part of the exterior is a bespoke creation inspired by Ferrari's GT race cars of the past as well as modern architecture and science fiction. It is designed both for the road and the track.
The triple-layer Rosso Magma body sports a racing livery in custom dark red paint. According to Ferrari, the trickiest aspect of the design was striking the ideal balance between expressiveness and restraint: the Omologata had to ooze street presence while maintaining a very pure formal language.
Other interesting touches include the contrasting front spoiler and side skirts, plus red lettering on the tire sidewalls. In the rear, the taillights are cast deeper into the body and the steeply raked window is replaced by a tiered panel.
Inside, the electric blue seats, finished in a combination of leather and Jeans Aunde fabric with four-point racing harnesses, stand out against a full black interior.
Metal parts on the dashboard and steering wheel are finished with the crackled paint effect associated with the great GT racers of the 1950s and 1960s. A hammered paint effect so often used in cars such as the 250 LM and 250 GTO finds its way on the inner door handles and the Ferrari F1 bridge.
The company doesn't mention anything about the naturally aspirated 6.5-litre V12 engine. The name "Omologata" is actually a reminder that every safety requirement for road homologation is met. Therefore, we must assume output is still rated at 789 horsepower.
While it's impossible to know how much this one-off Ferrari cost, a regular 812 Superfast starts at $425,000 CAD.