Could This be a Preview of Honda's Future Electric SUV?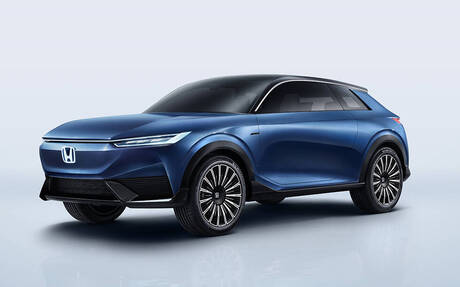 The 2020 Beijing Auto Show opened this past weekend with restrictions made necessary by the COVID-19 pandemic. But that's not what we want to talk to you about.
Honda was on hand to unveil an electric SUV concept—simply called "SUV E:Concept"—that foreshadows an upcoming production model to be built and sold in China.
However, as you probably recall, the automaker plans to hit the North American market with two electric vehicles by the end of 2023 (as 2024 models). General Motors will take care of the platform and powertrain under a recent deal with Honda, while Honda will be responsible for the exterior and interior design.
Given the huge popularity of SUVs here, we already know what shape these vehicles are going to adopt. They will also contrast heavily with the brand's current portfolio in order to signal "the beginning of a new era," as many EV makers and their marketing specialists like to say.
Thus, could this electric SUV concept unveiled in China be a preview of what's coming to our shores, as well? Obviously, there are many differences between China and North America (or Europe and Japan, as illustrated by the cute little Honda e), but it's easy to imagine Canadian and American drivers falling in love with a coupe-like SUV. The all-new Ford Mustang Mach-E is a prime example.
A rugged stance and ultra-thin headlights and taillights combine with a fastback-type profile and large wheels for what promises to be a sporty driving experience. Two doors are missing, though.
Honda says it fitted the SUV E:Concept with advanced driving aids (including the next generation of its Honda Sensing suite) and an AI-powered on-board assistant to make it more personalized and fun.
It all looks and sounds pretty interesting, for sure. Keep following The Car Guide to stay up to date on Honda's future electric vehicles.