2021 Chevrolet Tahoe: No Room for Error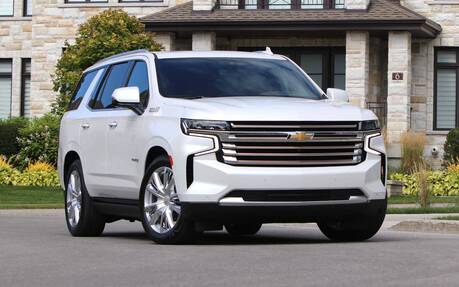 If there's one vehicle that Chevrolet can't screw up, it's the next-generation Tahoe. The outgoing model accounted for over 100,000 units sold in North America the past two years.
Overall, GM's full-size SUVs (Chevy Tahoe and Suburban, GMC Yukon and Yukon XL, Cadillac Escalade and Escalade ESV) found 277,344 takers across the continent in 2019, which represents about 67 percent of the market. All of them are completely new for 2021, and you can bet the automaker pulled all the stops to ensure a successful launch.
Why the Outrage?
Many people are outraged that GM is introducing large new SUVs with big old V8 engines at a time when its executives are making lots of promises with regard to electrification. What they fail to realize is that, without those highly profitable vehicles, the company simply wouldn't have the financial resources to develop sophisticated EVs and advanced batteries. Along with the Silverado and Sierra pickups, those big SUVs are GM's bread and butter.
Granted, the Chevrolet Tahoe is less popular in Canada than in the U.S., especially in "greener" provinces like Quebec and British Columbia, but there is still strong demand for that type of vehicle. And following decades of evolution, GM remains the industry leader.
When it comes to full-size SUVs, versatility is only matched by their capabilities. Of course, there's another important factor that explains their success of late: gas prices continue to be low. Heck, they even fell to a level we hadn't seen in 20 years.
Helping GM's quintet is the lack of serious competition outside of the Ford Expedition. And even that one couldn't outsell the aging Tahoe/Suburban despite getting a full makeover for 2018.
Six Trim Levels, Three Engines
The 2021 Chevrolet Tahoe lineup includes six trim levels—LS, LT, RST, Z71, Premier and High Country. The goal is to attract different types of customers, for instance with the sporty-looking RS and the ultra-luxurious High Country (the latter being somewhat unique in relation to the GMC Yukon Denali). Then you have the Z71 for off-pavement driving. It features more aggressively treaded tires, underbody skid plates and a firmer, long-travel suspension, not to mention a revised body with more favourable approach and departure angles.
Under the hood is a standard 5.3-litre V8 generating 355 horsepower like in the previous Tahoe and equipped with the same advanced cylinder-on-demand technology as the Silverado. The High Country is the only one to get the 6.2-litre V8 that delivers 420 horsepower and 460 pound-feet of torque—also returning from last year.
Early next year, 2021 Tahoe customers will be able to specify a 3.0-litre six-cylinder Duramax turbo-diesel engine. Max torque is identical to the bigger V8, but fuel economy is improved by about 35 percent. The tradeoff is reduced power (277 horsepower), plus higher maintenance costs.
Unfortunately, the diesel engine won't be available with the Z71 model. If you ask us, that makes no sense as torque is much more important to off-road drivers than brute power. GM claims the Duramax does not fit in the shorter engine compartment. Will designers address this issue? Could there be another way? We'll have to wait and see.  
$92,000 Worth of Happiness
For our first drive with the 2021 Chevrolet Tahoe, the folks at GM gave us a top-line High Country model with pretty much all the bells and whistles you can imagine. The price? A whopping $92,000.
The best attribute of this Tahoe is arguably the powerful yet flexible 6.2-litre V8. At cruising speeds, the engine is so quiet you'd think it's sleeping, which largely explains the very reasonable fuel consumption on the highway (around 11 L/100 km). In the city, the 10-speed automatic transmission (standard across the line) does an outstanding job of harnessing the incredible power on tap.
At last, the new Tahoe gets an independent rear suspension that greatly improves noise insulation, stability and handling. Optionally, you can select an adjustable air suspension for a more personalized driving experience including easier access, towing and parking manoeuvres.
Inside, the amount of extra room versus the previous generation is colossal. That's because the floor is 13 centimetres lower and the vehicle is 4 percent longer. As a result, third-row occupants enjoy increased comfort and cargo capacity is much greater, even surpassing the segment-leading Expedition.
Higher trim levels are available with either a bench seat or captain's chairs in the second row. The latter prove more comfortable and the ideal spot to watch a movie via the 12.6-inch dual-monitor entertainment system. They also offer improved modularity, which makes them easy to fold and slide when accessing the rear seats.
As for the front buckets, they are even more comfortable and a treat to sit in. Storage compartments abound and select models have a power-sliding centre armrest uncovering additional storage solutions. While the instrument cluster in front of the driver is relatively conventional, the shifter is replaced with push-buttons and the centre touchscreen offers wireless Apple CarPlay and Android Auto compatibility.
Time to Tow
With a maximum towing capacity of 8,400 pounds, the 2021 Chevrolet Tahoe still trails the aforementioned Expedition (9,300 pounds) and the Nissan Armada (8,500 pounds). We demanded an explanation to GM during an interview, but no one provided a satisfying answer.
On a positive note, the Tahoe includes new trailering technologies pioneered by the Silverado pickups. A Max Trailering package is available and includes a high-capacity radiator and cooling fan, an integrated trailer brake controller, a Hitch Guidance with Hitch View feature and the Chevrolet trailering app. Drivers have up to nine camera views, which is great.
All we did was attach a trailer carrying a 1,000-pound personal watercraft—something even the small Trailblazer could do—so we can't really comment on the Tahoe's towing prowess.
We also had the opportunity to test drive a Tahoe Z71. That model is definitely not as compliant as the High Country, but comfort levels are much higher than in the rough and twitchy Silverado Trail Boss. Curiously, the highway fuel consumption we recorded (with no trailer) was 6 percent higher than that of the High Country despite the Z71 using a smaller-displacement engine.
2WD, Seriously?
In order to maintain an attractive entry-level price, the 2021 Chevrolet Tahoe offers two-wheel drive on LS and LT models. That's no problem in the U.S., but here in Canada four-wheel drive is a must. And consider this: at $55,725, the Ford Expedition with standard 4WD is cheaper than a base Tahoe LS with 2WD. Try to justify that, GM.  
Then again, the automaker is well aware that few customers will settle for a stock Tahoe. Most will opt for an RS, Z71 or High Country model—by far the three most interesting of the bunch… and those with the highest residual value down the line.
Ultimately, is the 2021 Chevrolet Tahoe a success? You bet. It's roomier, more capable, more refined and much more pleasant to drive than ever before. While we're anxious to see GM's reaction when the Jeep Grand Wagoneer launches next year with the first plug-in hybrid powertrain in the segment, right now the Tahoe is the new king of hill.
Test drive report
Test model

2021 Chevrolet Tahoe

Trim level
High Country
Price range
$56,498 – $80,898
Price as tested
89 898 $
Warranty (basic)
3 years/60,000 km
Warranty (powertrain)
5 years/100,000 km
Fuel economy (city/highway/observed)
16,8 / 12,4 / 14,6 L/100km
Options
Triple-layer white paint ($1,195), High Country package ($5,090), Rear-seat entertainment package ($2,295)
Competitive models
2020 Ford Expedition, 2020 Nissan Armada, 2020 Toyota Sequoia, 2021 GMC Yukon
Strong points

High build quality
Superb ride and handling
Proven and dependable powertrains
Roomier and more practical interior

Weak points

Prices are up
Towing capacity still trails the competition
Duramax engine not available on Z71

Editor's rating
Fuel economy
The 2021 Tahoe is reasonably efficient, but could use new engines for better fuel economy.
Comfort
Comfort levels are exceptional, particularly in the High Country model.
Performance
Power and handling are impressive and reassuring. The High Country with the 6.2-litre V8 and air suspension is the best.
Infotainment
We love the system (including wireless Apple CarPlay and Android Auto compatibility), but still wish for a more modern interface.
Driving
The drive is remarkable and way better than the competition.
Overall
The new Tahoe is a success, but more advanced powertrain technologies will become necessary sometime soon.