Confirmed: Mazda MX-30 Coming to Canada in 2021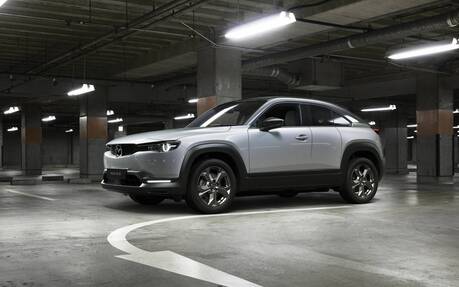 The Mazda MX-30, the Japanese brand's first-ever all-electric vehicle, has been the topic of many rumours and debates since it made its official debut at the 2019 Frankfurt Auto Show. This small, coupe-like SUV introduces an evolution of Kodo styling and offers a highly dynamic driving experience, as our colleague Gabriel Gélinas found out behind the wheel of a prototype.  
Will it come to Canada or not? That's the big question. But now we have an answer.
During a presentation of the 2021 model lineup on Wednesday, Mazda Canada's product strategy and development manager, Mark Peyman, confirmed that the MX-30 will land on our shores sometime next year.
Unfortunately, details are extremely limited. We assume it will arrive as a 2022 model. Also, Mazda clarified it will bring over the fully electric MX-30 (the one with 140 horsepower and just 200 kilometres of range), not the gasoline variant with a mild hybrid system that was recently announced for select markets.
The company plans to add a rotary engine as a generator that would charge the battery and extend the range. This is definitely something to get excited about.
On the other hand, the SKYACTIV-X engine with spark-controlled compression ignition, which is said to improve fuel economy by about 25 percent, is essentially dead for Canada.
Once again, the people at Mazda said they are studying this super-efficient engine with great interest, but at the same time they admitted it's not part of their plans and preferred to go to the next question. They are clearly keeping some things secret, like costs, availability (in Japan and Europe demand for the SKYACTIV-X is, well, sky-high right now), not to mention the fact that our American neighbours simply don't want it.
The lone sliver of hope is to apply the technology to a bigger, more potent engine than the 178-horsepower, 2.0-litre SKYACTIV-X currently available overseas. In fact, Mazda engineers are already running simulations and we could see an inline six-cylinder variant debut in a new large-vehicle architecture that Mazda is developing and planning by 2023. Fingers crossed for that one!