2021 Kia Seltos: Everything You Need to Win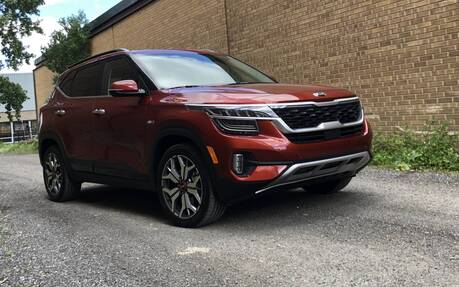 The small-SUV market is booming and Kia recently expanded its offering with the all-new Seltos.
Sharing many components with the award-winning Hyundai Kona, the 2021 Kia Seltos boasts a solid foundation and realistically could enjoy as much success as its domestic cousin.
With good looks, attractive pricing and more cargo room than most competitors, this vehicle has everything you need to become a winner.
Tougher Appearance
While many rivals adopt super-smooth lines and a car-like appearance (think Mazda CX-30 or Chevrolet Trailblazer), the Kia Seltos features boxy styling and has more of a little-truck aura.
Up front, the high-mounted grille contributes to that tough, adventurous look. At night, a thin light strip connects the headlights right above the grille, which is a cool touch that sets the Seltos apart from all those SUVs and crossovers that kind of look the same.
In the rear, the tall roofline defies the current trend of coupe-style vehicles. This allows the Seltos to offer remarkable cargo capacity—752 litres with the rear seats up or 1,778 litres when you fold them down. You can easily fit a bicycle in there without even having to remove one of the wheels. The Seltos manages to eclipse the Honda HR-V, which is renowned for its tremendous versatility.
Passengers also benefit from the tall roofline, especially in the rear where even adults enjoy generous headroom. On the flip side, legroom remains fairly tight.
Good Drive
We tested the 2021 Kia Seltos over a full week and came away pretty satisfied. The interior is relatively minimalist and designers certainly could have done a better job of integrating the centre touchscreen, which awkwardly floats above the console. Ergonomics are spot-on, however, and the driving position is perfect.
On the road, the Seltos displays good manners, though it could be quieter. Wind noise is constantly present when you pick up speed, but we somehow got used to this irritant fairly rapidly.
Powertrain options are the same as the Hyundai Kona, starting with a naturally aspirated 2.0-litre four-cylinder engine that's mated to a continuously variable transmission. The available turbocharged 1.6-litre mill teams up with a seven-speed dual-clutch transmission.
The latter resided under the hood of our SX Turbo tester, delivering 175 horsepower and 195 pound-feet of torque. While not extremely quick, the force-fed Seltos accelerates in convincing fashion and offers pretty decent handling. On the other hand, fuel consumption was a disappointing 8.4 L/100 km. Sure, there's worse out there, but we expected a better result given the size of the vehicle.
How Much?
All-wheel drive comes standard with the turbo engine, making it an attractive proposition for Canadian drivers in wintertime. Now, why is the base model only available with front-wheel drive? Probably to lower the price. Then again, the Seltos starts at $24,905 plus freight and delivery, which is more expensive than a similarly equipped Kona or Trailblazer.
Kia makes up for that with standard equipment that puts many rivals to shame. All Seltos models feature 16-inch wheels, heated front seats, as well as active safety systems like blind spot monitoring and rear cross-traffic alert. Let's not forget Android Auto and Apple CarPlay compatibility.
The SX Turbo retails from $34,505, making it a less rational purchase. Of course, it doesn't just offer a punchier engine. Customers also receive a 10.25-inch touchscreen, head-up display, Bose premium sound system, power sunroof and more.
Our Verdict
The 2021 Kia Seltos has all the ingredients to become a hit in Canada. And we're not even talking about the fully electric variant that's supposed to follow sometime in the next few years. Remember, the Seltos is built on the same platform as the Kona, which is available with an electric powertrain. We don't see any technical hurdles there.
So, if you're currently shopping for a small utility vehicle, you should definitely check out the Kia Seltos and take it for a test drive.
Test drive report
Test model

2021 Kia Seltos

Trim level
SX TI
Price range
$24,905 – $34,505
Price as tested
34 505 $
Warranty (basic)
5 years/100,000 km
Warranty (powertrain)
5 years/100,000 km
Fuel economy (city/highway/observed)
9,4 / 7,9 / 8,4 L/100km
Options
N/A
Competitive models
2021 Mazda CX-30, 2021 Hyundai Kona, 2021 Buick Encore GX, 2021 Chevrolet Trailblazer, 2021 Subaru Crosstrek, 2020 Mitsubishi Eclipse Cross, 2020 Nissan Qashqai, 2020 Jeep Compass
Strong points

Generous cargo room
Impressive standard equipment
Perfect driving position

Weak points

Lack of noise insulation
Fuel economy could be better
Some trim levels are not cheap

Editor's rating
Fuel economy
We expected better fuel economy given the size of the vehicle.
Comfort
Ergonomics are spot-on and the driving position is perfect.
Performance
While not extremely quick, the turbocharged engine delivers convincing acceleration.
Infotainment
Kia's system is still one of the best.
Driving
This is not where the Seltos stands out from the competition.
Overall
The Seltos is a quality product in a booming market segment.