Three Alfa Romeo Concepts Sold for $20M at Auction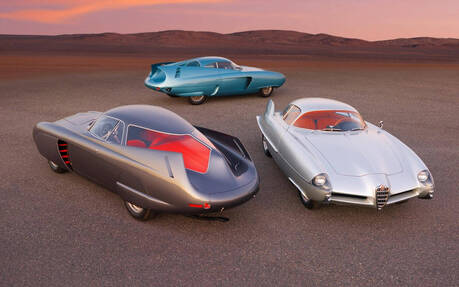 The future of Alfa Romeo in North America may be uncertain, but the Italian brand has a glorious past, as illustrated in our photo gallery of Alfa's 110 years.
During the 1950s, three absolutely incredible concepts were revealed in successive years at the Turin Motor Show in Italy. Produced by Bertone, they were called BAT 5, 7 and 9d in a reference to Berlina Aerodinamica Tecnica.
Well, guess what? RM Sotheby's held an auction in New York a few days ago and the trio was sold for $14.84 million USD, or nearly $20 million CAD at the current exchange rate. Yes, you read that right. With that money, you could buy around 200 copies of the 2020 Alfa Romeo Giulia Quadrifoglio ($90,945 plus tax).
It's a record for the most expensive post-war Alfa Romeo sold at an auction as a single lot.
As the pictures show, these were extremely aerodynamic cars, with front fenders protruding forward along with the pointed nose, gigantic fins in the rear, a teardrop-shaped cabin, partially covered wheels and large side air vents on some models.
The BAT 5 (in grey) was unveiled in 1953, the BAT 7 (in blue) came in 1954, and the BAT 9d (in silver) followed in 1955. The second had a ridiculously low drag coefficient of 0.19, while the third one was a bit closer to road-going Alfa Romeo cars at the time. It also sported a triangular front grille similar to that of current Alfas.