2021 Kia K5: More Than Just Good Looks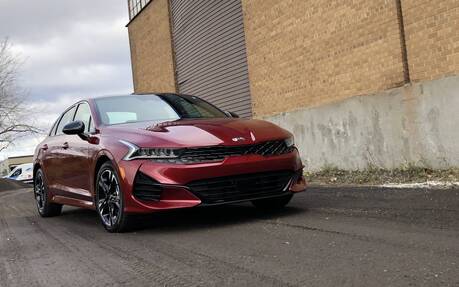 Do you feel that? That's the wind of change blowing through the Kia lineup for 2021. Gone is the Optima. Here comes the brand new K5, a much more elegant and advanced family car arriving in dealerships this fall.
Why K5? For marketing purposes, Kia has decided to give its midsize sedan the same moniker for all global markets. The Optima as we knew it was sold as K5 in South Korea.
Okay, that's not very original or exciting, but everything else about this new Kia model is quite interesting. Let's take a closer look.
Fantastic Styling
In a segment with such big guns as the Toyota Camry and Honda Accord, the 2021 Kia K5 stands a decent chance of catching people's attention with its striking looks. Some might disagree, but we believe it's one of the most attractive sedans in its class.
The LED headlights incorporating zigzag-shaped daytime running lights extend into the front fenders, while the bulging, creased hood drops down as if to crush the mean-looking grille. The pictures are one thing, but when you get to see the car in person, it's even more impressive.
The side profile shows a flowing roofline designed to make the K5 look like a coupe. There's a lot of similarity between this sedan and the sportier Kia Stinger. The two are obviously related when you look at them.
Our GT-Line tester had a particularly aggressive stance with 18-inch wheels and bumpers borrowed from the fully loaded GT model, which is due to go on sale later in 2021.
The Kia K5's interior layout is a bit too plain for our liking, however. It's almost as if designers had little time or energy left after working so hard on the exterior. Furthermore, there's an excessive amount of gloss black plastics, which tend to get covered in dust and fingerprints in no time. At least the controls are nicely positioned and easy to use.
The available 10.25-inch touchscreen is shared with many other Kia models including the award-winning Telluride. No complaints here. The interface is sharp and could hardly be more user-friendly. The standard display is eight inches in size, which is fine. It also comes with Android Auto and Apple CarPlay compatibility, plus adaptive cruise control and a wireless charging pad for smartphones. As usual, Kia packed a lot of content to give customers their money's worth.  
AWD at Last!
Styling is only half the story with the 2021 Kia K5. Unlike the outgoing Optima, it features all-wheel drive, a welcome addition that will help the car keep pace with the Nissan Altima, Toyota Camry and Subaru Legacy.
Our short time with the K5 didn't involve rain or other unfavourable weather conditions that would have allowed us to test the effectiveness of the AWD system, but rest assured we plan to give it another shot come winter.
What we can tell you, however, is that the turbocharged 1.6-litre four-cylinder engine included as standard is fairly underpowered. A car of this size with such a small displacement is bound to disappoint when you hit the throttle. The 180 horses struggle to deliver satisfying acceleration that would match the K5's killer looks. Sure, it's enough power to get you from A to B without any hassle, but we definitely would have liked a bit more juice and explosiveness.
The good news is that the upcoming GT model promises to deliver much better performance with a turbocharged 2.5-litre mill rated at 290 horsepower and 311 pound-feet of torque. It's too bad we have to wait a few more months to get it. That and the fact it won't be available with AWD. Bummer.
As for fuel economy, we recorded an average of 8.0 L/100 km, which is pretty remarkable for a sedan of this size equipped with AWD. The Optima proved more frugal thanks to a hybrid variant, but sadly there's no such thing on the K5 menu. Hopefully Kia will fix that sooner rather than later.
Bottom Line
The new 2021 Kia K5 brings a breath of fresh air into the midsize segment. With a base MSRP of $29,595, it's barely more expensive than a 2020 Optima, yet much more generously equipped. Does that mean that sedans are back? Maybe not, but it will be interesting to keep an eye on the K5.
Test drive report
Test model

2021 Kia K5

Trim level
GT-Line
Price range
$29,595 – $39,995
Price as tested
35 995 $
Warranty (basic)
5 years/100,000 km
Warranty (powertrain)
5 years/100,000 km
Fuel economy (city/highway/observed)
9,2 / 6,9 / 8,0 L/100km
Options
N/A
Competitive models
2020 Honda Accord, 2021 Hyundai Sonata, 2021 Toyota Camry, 2021 Nissan Altima, 2021 Mazda Mazda6, 2021 Subaru Legacy, 2020 Volkswagen Passat
Strong points

Fantastic styling
Standard AWD
Long list of features

Weak points

Lack of power (1.6T engine)
Too many gloss black plastics
No hybrid variant yet

Editor's rating
Fuel economy
Fuel economy is pretty remarkable for a sedan of this size equipped with AWD.
Comfort
The seats provide adequate support and comfort, but that's pretty much it.
Performance
The base engine is sadly underpowered.
Infotainment
The interface is sharp and could hardly be more user-friendly.
Driving
Handling is commendable, but the K5 lacks explosiveness and character.
Overall
A breath of fresh air in a market segment that desperately needs one.