2021 Hyundai Elantra: A Good Step Forward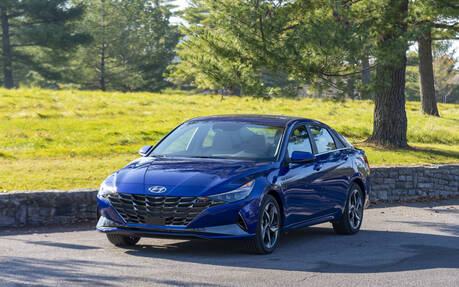 Things are looking pretty good for Hyundai in Canada. The Korean automaker currently ranks fourth in terms of sales, just behind Honda.
Over the next 14 months, six brand new or significantly redesigned products will hit the market including the Elantra, Santa Fe, Tucson, Kona, Santa Cruz and the all-electric Ioniq 5. Many of them will offer hybrid and/or plug-in hybrid options, sporty N Line variants and even high-performance N models like the Elantra N. You'll be hearing a lot about Hyundai, that's for sure.
While compact cars are not as popular as they once were, they still account for more than 274,000 units sold in the country annually. The seventh-generation Elantra looks set to make a big statement and attract many new customers, including some that are not ready to move up to a crossover or switch to an EV yet.
Chess Game
During our last visit to the Hyundai design centre in South Korea, the company's vice president of global design, SangYup Lee, explained to us his vision for future Hyundai vehicles.
Essentially, he said they will all share a certain resemblance, but every single one of them will have a unique identity in terms of styling, kind of like pieces on a chess board. The latest Sonata and Elantra sedans have a more coupe-like exterior, but the Elantra features a different grille and headlight design. Physically, it's also longer, wider and lower than its predecessor while riding on a longer wheelbase.
Digital Cockpit
In keeping with modern trends, the interior of the 2021 Hyundai Elantra is all-digital with a pair of 10.25-inch displays. One replaces the traditional instrument cluster, while the other is a touchscreen for the infotainment system.
The Elantra is also the first car in its class to offer wireless Apple CarPlay and Android Auto compatibility. We're happy to report that material selection is improved along with fit and finish.
Improved Driving Dynamics
With a lineup comprised of the Elantra, Elantra Hybrid, Elantra N Line and Elantra N, Hyundai's compact car will offer six different variants. A manual gearbox still comes standard in the base model, while most others use a chain-driven, continuously variable transmission. The naturally aspirated 2.0-litre four-cylinder engine produces 147 horsepower at 6,200 rpm and 132 pound-feet of torque at 4,500 rpm.
While driving the 2021 Hyundai Elantra, we quickly noticed how the CVT feels more natural and operates almost like a regular automatic. Performance is decent at best, though. The engine can be loud and rough at full throttle, which becomes irritating. But that's nothing new with Korean cars.
When it comes to fuel economy, we recorded an average of 6.5 L/100 km in a mix of city and highway driving. The Elantra behaves soundly on the road, with a rigid chassis and more precise steering than in the past, although it doesn't match the dynamic Mazda3.
There's a fairly long list of advanced safety and driver assistance features, too, including Highway Driving Assist which reduces driver fatigue by combining adaptive cruise control with lane keeping assist.
What's Next?
The first-ever Hyundai Elantra Hybrid will go on sale in January with the same powertrain as the current Ioniq, namely a 1.6-litre four-cylinder mated to an electric motor. A bit later, we'll see the Elantra N Line featuring a turbocharged 1.6-litre engine producing 201 horsepower and 195 pound-feet of torque.
The real star will be the Elantra N motivated by a 276-horsepower, turbocharged 2.0-litre mill and offering six-speed manual and eight-speed automatic transmissions along with an adjustable suspension and electronic limited-slip differential.
In the meantime, we have a more competent, more premium Elantra that is generously equipped from $17,899 (plus freight and delivery). The top-line Ultimate Tech model costs $28,299.
Test drive report
Test model

2021 Hyundai Elantra

Trim level
Ultimate Tech
Price range
$17,899 – $28,299
Price as tested
28 299 $
Warranty (basic)
5 years/100,000 km
Warranty (powertrain)
5 years/100,000 km
Fuel economy (city/highway/observed)
N/A / N/A / 6,5 L/100km
Options
N/A
Competitive models
2021 Honda Civic, 2021 Toyota Corolla, 2021 Kia Forte, 2021 Volkswagen Jetta, 2021 Subaru Impreza, 2021 Mazda Mazda3, 2021 Nissan Sentra
Strong points

High-quality materials, fit and finish
High-tech cabin
Wireless Apple CarPlay and Android Auto compatibility
Good fuel economy

Weak points

No AWD option
Five-door model is gone
Engine can be loud and rough at times
Handling is improved, but it's no Mazda3

Editor's rating
Fuel economy
We recorded an average of 6.5 L/100 km.
Comfort
The engine is loud and rough at full throttle, which becomes irritating.
Performance
Decent at best.
Infotainment
The system is user-friendly and offers wireless Apple CarPlay and Android Auto compatibility.
Driving
Steering is more precise than before.
Overall
A competent car with a more premium look and feel.