All-new Infiniti QX55 Expands the Brand's SUV Offering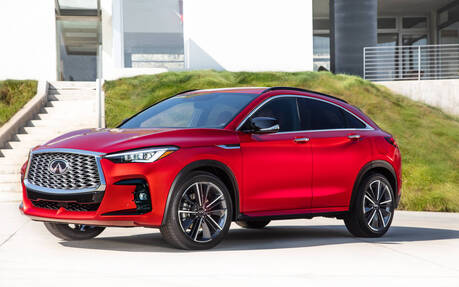 In a move to regain some market shares in the competitive world of luxury SUVs, Infiniti is introducing the all-new QX55 as a sportier, coupe-like variant of the QX50.
The two models will coexist in the same way as the BMW X3/X4 and Mercedes-Benz GLC/GLC Coupe, one of them clearly favouring form over function.
While the front end of the QX55 is pretty similar to that of the QX50, the rear profile is a much different story. And it's not just the roofline; the LED taillights have a unique shape, as well.
According to Infiniti, the inspiration for this new vehicle came from the recent QX60 Monograph concept. This is evidenced by the large, intricately styled grille and aggressive design of the lower front fascia.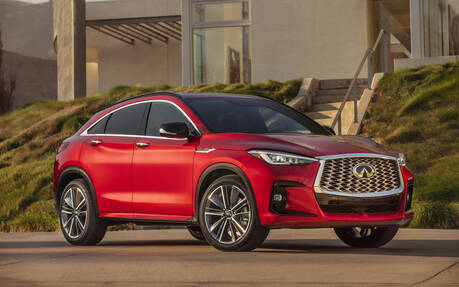 Familiar Engine
Under the hood of the Infiniti QX55 is the same turbocharged 2.0-litre four-cylinder engine that powers the QX50. Output is rated at 268 hp and 280 lb-ft of torque. Variable compression technology means the engine's compression ratio can vary from 8:1 to 14:1 depending on driving conditions for maximum performance or efficiency.
Power is handled by a continuously variable transmission along with a part-time all-wheel drive system as standard equipment. The latter transfers up to 50 percent of available torque to the rear axle when the front wheels start to lose grip. Otherwise, the QX55 operates in FWD-only mode to improve fuel economy.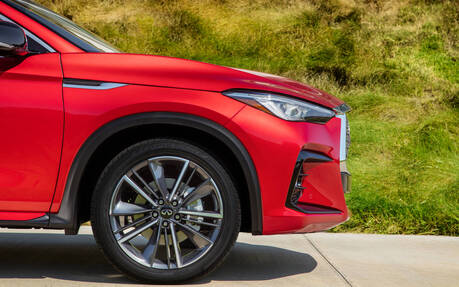 Safety is covered by advanced features such as automatic emergency braking, pedestrian detection and blind spot monitoring. Nissan's ProPILOT Assist technology is available, combining various driver assistance features that enable semi-autonomous driving. Active noise control makes for a quieter ride. On the other hand, the exhaust note is amplified through the speakers when you activate one of the sportier drive modes.  
Less Utility
Like any coupe-like SUV, the Infiniti QX55 offers less cargo room than the conventional SUV it's based on. Trunk capacity is rated at 761 litres versus 895 litres in the QX50. The difference is not insignificant. On a positive note, the rear seats slide fore and aft for extra versatility.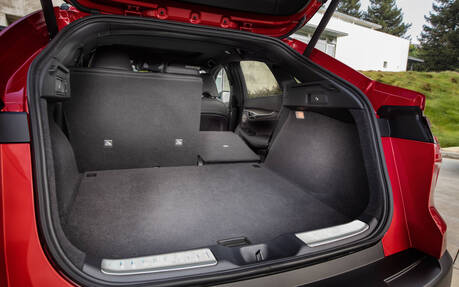 Up front, the layout mimics the one in the QX50 with a combination of seven- and eight-inch displays. There's a 4G LTE hotspot allowing occupants to connect up to seven mobile devices simultaneously (and yet there are just five seats?). Apple CarPlay and Android Auto compatibility is included, the former through a wireless connection.
Luxury and Essential Pro-Assist models boast aluminum inserts, while the top-line Sensory model replaces those with black maple trim.
The new Infiniti QX55 will go on sale across Canada in the spring of 2021. Pricing will be announced closer to launch.